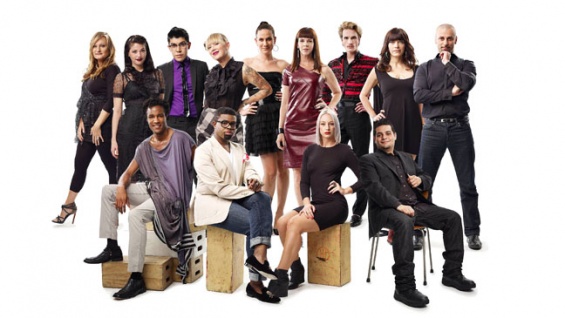 There will be a lot of familiar faces in the first "Project Runway All Stars" (Lifetime, 9 p.m.) from Mondo Guerra and Austin Scarlett to Elisa Jiminez, Kara Janes and Gordana Gehlhausen.
But the host and judges for the spin-off, which was bumped from its original start date in November, will be very different. Isaac Mizrahi steps in for the Heidi Klum host role; the judging panel will be rounded out by model Angela Lindvall and Marchesa founder Georgina Chapman. Guest judges will include Miranda Kerr and Miss Piggy.
The show's key role, the mentor will be Marie Claire editor Joanna Coles. They begin the season with an unusual challenge.
It's paired with yet another variation on the format, "24 Hour Catwalk" (Lifetime, 10 p.m.) in which four designers must create a line in a day. The droll Alexa Chung hosts; the judging panel is a little iffy though. A winner named each week will pocket $10,000.
Pity the Animal Planet fan surfing challenges, seeking a peek at the cuddly animals only to find the new "American Stuffers" (Animal Planet, 10 p.m.), chronicling the work of a Southern taxidermy shop specializing in preserving the dead pets of customers. It's creepy and the people who bring in their dead animals tearfully are the most fascinating of all.
"Jersey Shore" (MTV, 10 p.m.) wore out its welcome about the time it embarrassed itself in Italy – the worst ambassadors possible there. For people who proclaimed themselves Italian, they found little in common with the food, culture, language or people there.
Back  on home turf for the third time, they'll feel more at home among the cheap T-shirt shops, gaudy discos and pizzerias. But it may be too late. These people are approaching their late 20s and its no longer seeing them get drunk, bang girls and bicker. It's also dishonest: They live in the same ramshackle summer share but are all millionaires from cashing in on the phenomenon, as bygone now as "The Osbournes."
"Grey's Anatomy" (ABC, 9 p.m.) returns after an absence of several weeks.
"Wipeout" (ABC, 8 p.m.) begins its fifth season with a new sideline reporter in Vanessa Minnillo.
There are new episodes of "The Vampire Diaries" (The CW, 8 p.m.) and "The Secret Circle" (The CW, 9 p.m.) but a lot of reruns on other networks, including all of the NBC comedies and those on CBS as well.
The special "Diving into Noah's Flood" (National Geographic, 8 p.m.), digs into the climactic event that may have spawned the story.
The documentary "Louder Than a Bomb" (OWN, 9 p.m.), examines Chicago high school teams engaged in a poetry slam.
Cinematographer Jack Cardiff gets the showcase tonight on Turner Clasic Movies, starting with the 2010 special "Cameraman: The Life and Work of Jack Cardiff" (8 and 11 p.m.) as well as examples such as "Wings of the Morning" (9:30 p.m.) and "The Four Feathers" (12:30 a.m.).
In NBA action, it's Heat at Hawks (TNT, 8 p.m.) and Lakers at Trail Blazers (TNT, 10:30 p.m.). In college basketball, it's Michigan at Indiana (ESPN2, 9 p.m.).
Daytime Talk
Kelly Ripa: Darren Criss, Alberto Perez, Rob Lowe. The View: Viola Davis, Octavia Spencer (rerun). The Talk: Taye Diggs, Kristan Cunningham. Ellen DeGeneres: Nicole "Snooki" Polizzi, Jenni "J-Woww" Farley, Sammi "Sweetheart" Giancola, Deena Nicole Cortese. Wendy Williams: Donny Deutsch, Lisa Niemi Swayze. Rosie O'Donnell: Emmy Rossum, William H. Macy.
Late Talk
David Letterman: Tina Fey, Barr Brothers. Jay Leno: Michelle Williams, Josh Lucas, Chris Cornell. Jimmy Kimmel: Tray Morgan, tune-yArDs. Jimmy Fallon: Fred Armisen. Craig Ferguson: Tom Selleck, Daniela Ruah. Tavis Smiley: Jeffrey Sachs (rerun). Carson Daly: Paul Haggis, Roll the Tanks, Fool's Gold (rerun). Jon Stewart: Craig Shirley. Stephen Colbert: Steve Case. Conan O'Brien: Chris Paul, Tom Papa. Chelsea Handler: Laura Prepon, Brad WOllack, Sarah Colonna, Matt Braunger.