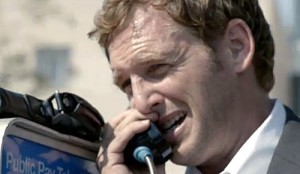 The characters of John Grisham's decade old book (and blockbuster movie) return in a new series of the same name, "The Firm" (NBC, 9 p.m.), a production that features some pretty good people – Molly Parker, Juliette Lewis and Callum Keith Rennie – though as attorney Mitch McDeere, Josh Lucas, right, may not be Tom Cruise.
It's got a preposterous script that begins with a big ominous chase across the D.C. reflecting pool and includes a lot of inconsistent details. There's  a conventional procedural case in the middle of it, and a whole recurring paranoid plot just like the one in the movie. If you were starving for a court show this may be worth watching. But opposite "The Good Wife" (CBS, 9 p.m.), it's not.
The new "House of Lies" (Showtime, 10 p.m.) fairly vibrates with energy, thanks mostly to Don Cheadle's lead as a management consultant who helps companies resurrect their image. His team includes Kristen Bell, who is constantly hit on, and Ben Schwartz, recently appearing as Jean-Ralphio on "Parks & Red." Neither gets to do much in the pilot, though, which is fast moving and includes the kind of shambling mayhem we've come to expect from the accompanying "Californication" (Showtime, 10:35 p.m.), which also returns tonight (as Hank returns to L.A. from New York and meets a rapper). But the success of the series depends on how willing viewers are to see the greedy, destructive ways of Wall Street and their defenders as comedy. [I wrote a longer review of the show for Salon here.]
A similar moral dilemma confronts viewers of "Shameless" (Showtime, 9 p.m.), whose Gallagher family is guilty of all manner of questionable behavior, none more than William H. Macy's Frank, the patriarch of ill repute who manages to hand off the youngest child for collateral for the kind of bar bet only Mitt Romney would make. But the show is exhilarating to watch, mostly due to Emily Rossom's presence as the young woman who holds things together for her siblings while being able to now work a bar and have an active sex life. Forced to be operators, eacy of the wiley Gallagher family does what needs to be done to keep the gritty family going in Chicago. (This is free Showtime weekend, by the way, check your cable company for details).
It's kind of a big night on TV, if you haven't guessed it so far. For fans of "Absolutely Fabulous" (BBC America, Logo, 10 p.m.) it may be a kind of holiday, with the show returning for a monern day special for the first time in years. And there is a lot for them to comment on, from iPads to blogging and flogging.
Wild Card Weekend concludes with Atlanta at Giants (Fox, 1 p.m.) and Pittsburgh at Denver (CBS, 4:30 p.m.). So it's the first Sunday in months without NBC's Sunday Night Football.
Lara Logan returns to Afghanistan on a new "60 Minutes" (CBS, 8 p.m.).
Once, Robert Carlyle played Hitler; tonight, he's in the spotlight on "Once Upon a Time" (ABC, 8 p.m.) as Rumplestiltskin.
They are, after all, "Desperate Housewives" (ABC, 9 p.m.). So Bree prepares to kill herself.
Andy Cohen kicks off the first of the five-night-a-week versions of "Watch What Happens Live" (Bravo 11 p.m.). His guests: Kandi Burruss, ?uestlove.
I don't know if you've noticed how close the Yeti has gotten to the East Coast, but one "Finding Bigfoot" (Animal Planet, 8 p.m.) reports on a baby Bigfoot in New York. A new episode at 10 tracks one in Rhode Island. In between there is an alligator to be caught on "Gator Boys" (Animal Planet 9 p.m.).
Odd inversion: "Big Momma's House 2" (Fox Movie Channel, 7 p.m.) precedes the original "Big Momma's House" (Fox Movie Channel, 9 p.m.).
Another regional spinoff: "Cajun Pawn Stars" (History, 10 and 10:30 p.m.).
Oprah Winfrey is doing house calls on her new "Oprah's Next Chapter" (OWN, 9 p.m.). Tonight it's pastor Joel Osteen. If you missed the premiere last week, with Steven Tyler of Aerosmith, it's on at 6 p.m.
Still another bowl game: Arkansas State vs. Northern Illinois in the Godaddy.com Bowl (ESPN, 9 p.m.).
Sunday Talk
ABC: Obama campaign adviser David Axelrod, Mike Huckabee. CBS: Defense secretary Leon Panetta, Martin E. Dempsey of the joint chiefs of staff, Sen. John McCain. NBC: Republican Presidential Debate. CNN: Jon Huntsman, Rep. Nancy Pelosi. John H. Sununu. Fox News: Rep. Debbie Wasserman-Schultz, Reince Prebus.