And now there are six.
With a slightly narrowed field, now all male, here comes yet another GOP debate, whose full title is "ABC News' Your Voice, Your Vote: Republican Presidential Canidates Debate in New Hampshire" (ABC, 9 p.m.) direct from the New England battleground. George Stephanopoulos and Diane Sawyer moderate from St. Anselm College in Manchester. It's the first debate in 12 hours; the second is through "Meet the Press" Sunday morning at 9.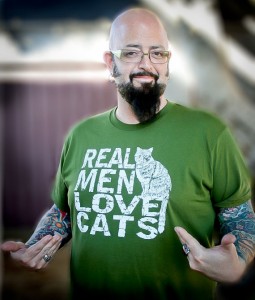 Cesar Milan brings his canine calming ways to a new channel that seems to be the opposite of what he's seeking Nat Geo WILD. In the eighth season opener for "Dog Whisperer" (Nat Geo Wild, 8 and 9 p.m.), he deals with a pair of feuding Russell terriers, and in the second hour deals with a pair of bulldogs.
For cat people, there is at the same time the second season premiere for "My Cat from Hell" (Animal Planet, 8 p.m.), in which trainer Jackson Galaxy, right, performs a similar service for felines. In the premiere, it's a feisty cat that keeps a man from proposing to his girl.
Brooke Burns stars as a fashion writer who tries to makeover a gruff sportswriter played by Dylan Bruno in the made for TV romance "Fixing Pete" (Hallmark, 9 p.m.). It also features, as their respective bosses, Valerie Harper and John Ratzenberger.
Another new TV movie, "Walking the Halls" (Lifetime, 8 p.m.) about a group of high school cheerleaders who decide to date wealthy older men.
The Russell Brand remake of "Arthur" (HBO, 8 p.m.) makes its premium cable debut. Also on tonight: the animated "Mars Needs Moms" (Starz 9 p.m.) with voices by Seth Green, Joan Cusask and Dan Fogler; and "Sucker Punch" (Cinemax, 10 p.m.) with Emily Browning and Vanessa Hudgens.
It's NFL's wild card weekend, with games today of Cincinnati at Houston (NBC, 4;30 p.m.) and Detroit at New Orleans (NBC, 8 p.m.).
Some of the greatest films in history were made nearly a century ago by Charlie Chaplin, who is saluted tonight on Turner Classic Movies with the classics "City Lights" (TCM, 8 p.m.) and "Modern Times" (TCM, 10 p.m.), followed by the silent shorts, "A Dog's Life" (TCM, 11:30 p.m.), "Shoulder Arms" (TCM, 12:15 a.m.) and "The Kid" (TCM, 1:15 a.m.), "Pay Day" (TCM, 3 a.m.), "The Circus" (TCM, 3:30 a.m.) and "The Gold Rush" (TCM, 4:45 a.m.).
Charles Barkley hosts the first "Saturday Night Live" (NBC, 11:30 p.m.) of the new year, with Kelly Clarkson the musical guest.