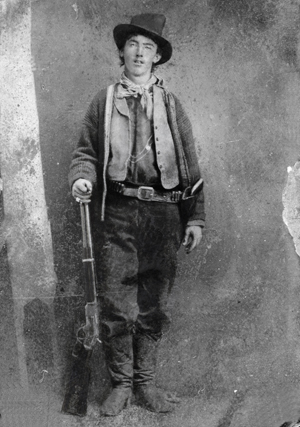 The new portrait of "Billy the Kid" on "American Experience" (PBS, 9 p.m., check local listings), part of the show's focus on the Wild West, brings out some unfamiliar facts about the outlaw. New York-born, he came out of New Mexico where he got a reputation as a hero to locals for his efforts to wrest control of land back from banks.
Joseph Maggio's portrait has some limitations though – mainly that it relies on just about one photograph ever taken of the former Henry McCarty. (Spoiler alert: It's the one at left).
Results of the New Hampshire Primary (MSNBC, 6 p.m.; CNN, PBS, 7 p.m.; Fox News, 8 p.m.: PBS, 11 p.m., check local listings) ought to put the Republican battle for presidential nomination in better perspective.
The latest variant on its "Project Runway" goldmine, the new "24 Hour Catwalk" (Lifetime 10 p.m.) pits designers against eachother to create an original line of clothing in just a day. That also means a winner of the $10,000 prize is given each week.
Alexa Chung, the droll Brit, is the host, who can't quite believe she has to say lines like "What would you do if you won the money?" And the judges panel seems week. But at least you don't have to tune in weeks later to see who wins.
Though the show makes you wonder why anyone would be put through her regimen, the winning Abby Lee Dance Company is taking on new students even as it lets others go on the second season of "Dance Moms" (Lifetime, 9 p.m.).
The new "Shipping Wars" (A&E, 9 p.m.) spotlights a company that transports unusual items. It also shows that they're starting to run out of ideas for reality series
To sustain careers on TV, some reality stars have to adapt to new situations. Tabitha Coffey's show for example has been renamed "Tabatha Takes Over" (Bravo, 10 p.m.) so she can turn around more businesses than just salons. But she does do a hair salon tonight in Minneapolis.
New episodes come for "Switched at Birth" (ABC Family, 8 p.m.) and "Jane by Design" (ABC Family, 9 p.m.).
Still a rerun on "Glee" (Fox, 8 p.m.).
A second season comes for "The Pioneer Woman" (Food Network, 10 a.m.).
"The Game" (BET, 10 p.m.) returns for a fifth season, soapier than ever in its one hour premiere.
The cross-dressing "Work It" (ABC, 8:30 p.m.), which only attracted 6.1 million in its debut last week, returns for more tonight.
The "Celebrity Wife Swap" (ABC, 9 p.m.) is a good one, involving the wife of Dee Snider vs. the fiancée of Flavor Flav.
Here's a good triple play: "My Favorite Year" (TCM, 8:15 p.m.), followed by "Dr. Strangelove" (TCM, 10 p.m.) and "Network" (TCM, 11:45 p.m.).
In college hoops, it's Georgia at Florida (ESPN, 7 p.m.), Louisville at Providence (ESPN2, 7 p.m.) and Ohio State at Illinois (ESPN, 9 p.m.).
In NHL action, it's Sharks at Wild (NBC Sports Network, 7:30 p.m.)
Daytime Talk
Kelly Ripa: Kate Beckinsale, Laura Prepon, Carl Edwards. The View: Keira Knightley, Ty Pennington, Dr. Jennifer Ashton. The Talk: Cast of "Rob." Ellen DeGeneres: Woody Harrelson, Joshua Jackson, the Wanted. Wendy Williams: Wendy Raquel Robinson, Tia Mowry. Rosie O'Donnell: Darrell Hammond.
Late Talk
David Letterman: Kate Beckinsale, Marv Albert, the Little Willies. Jay Leno: Queen Latifah, Paul "DJ Pauly D" DelVecchio, Augustana. Jimmy Kimmel: Randy Jackson, Dermot Mulroney, Will Hoge. Jimmy Fallon: Tina Fey, Handsome Dick Manitoba, the War on Drugs. Craig Ferguson: Isaac Mizrahi, Sophia Bush. Tavis Smiley: Carey Mulligan, Shelby Lynne (rerun). Carson Daly: Roy Choi, Riffany Schlain, the Joy Formidable (rerun). Jon Stewart: Judge Andrew Napolitano. Stephen Colbert: Bill Moyers. Conan O'Brien: Chelsea Hadler, Billy Eichner, Doyle and Debbie. Chelsea Handler: Kristin Chenoweth, Jeff Wild, Josh Wolf, Heather McDonald.