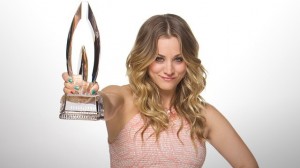 Kaley Cuoco hosts The 38th People's Choice Awards (CBS, 9 p.m.), where Faith Hill and Demi Lovato perform and a lot of shows that would otherwise not have a shot at awards get considered, thanks to the People. The first TV awards show of 2012 comes live from the Nokia Theatre in L.A.
It may be an era where women are flexing their power in comedy, but "Are You There, Chelsea?" (NBC, 8:30 p.m.), like "Whitney" (NBC, 8 p.m.), celebrates the saucy broad, a hard drinking, wise-cracking, bed-hopping young women who will be hardened before her time if she even survives.
The new comedy is based on Chelsea Handler's "Are You There Vodka, It's Chelsea?" whose liquor has been excised from the title so as not to scare viewers. Laura Prepon of "That 70s Show" takes the head role, though Handler sneaks in, in mousy brown wig, as a disapproving sister.
The biggest problem, as with "Whitney," is that despite the sass and feigned sexiness, it's just not very funny. Aside from a few genuine smiles among the female leads, it's also generally a cheerless exercise, whose deadpan tone speaks of an inner lifelessness.
"One Tree Hill" (The CW, 8 p.m.) returns for its final 13 episodes, so the action is expected to move faster. Today Julian and Brooke christen their twins. By the end of the season, they could be graduating.
A second season starts for the fanciful special effects makeup artist competition "Face Off" (Syfy, 10 p.m.).
A season premiere also occurs in Alaska for "Only in America with Larry the Cable Guy" (History, 9 p.m.).
Fanboy fans of "Smallville" may want to know Erica Durance gets to wear a Wonder Woman costume on a new "Harry's Law" (NBC, 9 p.m.).
Megan Mullally returns to "Happy Endings" (ABC, 9:30 p.m.); Makenzie is back on "Toddlers & Tiaras" (TLC, 10 p.m.).
It's the Restaurant Wars episode on "Top Chef Texas" (Bravo, 10 p.m.).
Dan Boyd of "Cougar Town" pops up on "Suburgatory" (ABC, 8:30 p.m.), on the school room set I visited just this week.
College basketball tonight includes Syracuse at Villanova (ESPN2, 7 p.m.) and Mavericks at Celtics (ESPN, 8 p.m.).
The month long Wednesday night salute to Angela Lansbury continues with "State of the Union" (8 p.m.), "The Three Muskateers" (10:15 p.m.), "Samson and Delilah" (12:30 a.m.), "Till the Clouds Roll By" (2:45 a.m.) and "Kind Lady" (5:15 a.m.).
In NBA action, it's Mavericks at Celtics (ESPN, 8 p.m.) and Heat at Clippers (ESPN, 10:30 p.m.). In hockey, Penguins at Capitals (NBC Sports Network, 7:30 p.m.).
Daytime Talk
Kelly Ripa: Jake Krakowski, Mike "The Situation" Sorrentino, Melina Jampolis, Boomer Esaison. The View: Suze Orman. The Talk: Wendie Malick, Dr. Peter Weiss. Ellen DeGeneres: James Spader, Jeremy Irvine, Daniel J. Simons & Jonah Richard Lehrer. Wendy Williams: Camille Grammer, Michael Clarke Duncan. Rosie O'Donnell: Jackee Harry, Styx.
Late Talk
David Letterman: Dolly Parton, Alan Zweibel. Jay Leno: Liam Neeson, Jack's Mannequin. Jimmy Kimmel: Woody Harrelson, Yvonne Trahovski, Rodney Atkins. Jimmy Fallon: Rosie O'Donnell, Donnie Wahlberg, Robin Thicke. Craig Ferguson: Adam Goldberg. Tavis Smiley: Mickey Rourke (rerun). Carson Daly: Joe Berlinger & Bruce Sinofsky, Action Bronson, the Airborne Toxic Event (rerun). Jon Stewart: Sen. Jim DeMint. Stephen Colbert: George Stephanopoulos. Conan O'Brien: Jack McBrayer, Justin Verlander, Dwayne Perkins. Chelsea Handler: Paul "Pauly D" DelVecchio, Fortune Feimster, Lavelle Crawford, Mo Mandel.