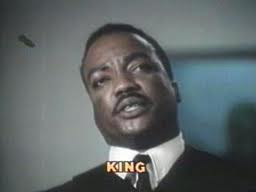 In honor of the holiday, we recall 10 different portrayals of the civil rights leader over the years.
Paul Winfield, left, for a time seem to have the MLK role nailed down (must as Edward Herrmann did FDR or William Devane as JFK). Winfield's crowning achievement in this regard was the TV miniseries"King: The Martin Luther King Story" in 1978, with  Cicely Tyson as Coretta Scott King.
After conducting the "Reading Rainbow," LaVar Burton briefly portrayed Martin Luther King in the 2001 Will Smith vehicle"Ali."
Donald Faison of "Scrubs" and now "The Exes," portrayed King in the a 2003 episode of the cartoon series, "Clone High."
Actor and voice talent Kevin Michael Richardson portrayed King in another cartoon, a 2006 episode of "The Boondocks" Titled "Return of the King," in which the leader comes back to contemporary times and is dismayed by what little progress had been made. This is it? This is what I got all them ass whoopin's for?
Broadway's Jeffrey Wright made a credible stab at the fallen leader in 2001 HBO movie "Boycott" with Terrence Howard playing Ralph Albernathy.
It ws Courtney B. Vance from "Law & Order: Criminal Intent" who played King in the massive TV miniseries "Parting the Water," based on Taylor branch's Pulitzer prize winning biographies.
Comedian Aires Spears lent voice to King in a third season episod  of "MADtv"
It was Robert Guillarme, of "Benson" fame, who portrayed King in the 1985 film "Prince Jack" about JFK.
Charles Brown played King in a similar production, the 1983 TV movie "Kennedy."
And it was Clifton Powell who played the leader in "Selma, Lord, Selma" (1999).