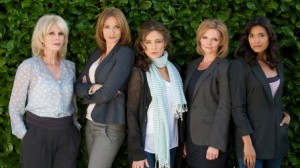 I'm not much for soap operas, but there's something about the UK import "Mistresses" (BBC America, 10 p.m.) that is appealing to me.
It could be the maturity of the actresses in the series, or how good they are in their roles. But two years have passed since we last caught the show – whose first and second seasons were combined on BBC America. In fact the four of them played by Sarah Parish, Sharon Small, Shelley Con, Orla Brady, are at eachother's throats as things begin. Then comes the (season long?) flashback to see how they got this way.
Part of the problem is that Parish's severe mother has arrived from Australia. She's played by none other than Joanna Lumley of "Absolutely Fabulous," which just resurfaced in a special.
An American series is also returning tonight, with "Royal Pains" (USA, 10 p.m.) resuming its season.
Another 90th birthday is celebrated in prime time, this time to Betty White's character on "Hot in Cleveland" (TVLand, 10 p.m.).
Marg Helgenberger begins the first of a two-part farewell to "CSI: Crime Scene Investigation" (CBS, 10 p.m.).
A repeat of last night's premiere of the fairly terrible "Remodeled" (The CW, 9 p.m.) follows a new episode of "One Tree Hill" (the CW, 8 p.m.).
Baby Lily learns the F word on "Modern Family" (ABC, 9 p.m.).
Harry Connick Jr. joins the cast of "Law & Order: Special Victims Unit" (NBC, 10 p.m.) as a prosecutor who romances Mariska Hargitay.
Charlize Theron is guest judge on "Top Chef" (Bravo, 10 p.m.).
Weird thing about this year: "2012" (FX, 8 p.m.) will be on every night.
Zooey Deschanel was slightly less adorkable in the movie "(500) Days of Summer" (E!, 8 p.m.).
The month-long Wednesday night salute to Angela Lansbury continues on Turner Classic Movies with "The World of Henry Orient" (8 p.m.), "The Manchurian Candidate" (10 p.m.), "All Fall Down" (12:15 a.m.), "The Courat Jester" (2:15 a.m.), "Season of Passion" (4 a.m.) and "The Reluctant Debutante" (5:45 a.m.).
In NBA action it's Trail Blazers at Hawks (ESPN, 8 p.m.) and Mavericks at Clippers (ESPN, 10:30 p.m.).
Tired of Ricky Gervais yet? "The Invention of Lying" (ABC, Family, 9 p.m.)
In the NHL, Sabres at Blackhawks (NBC Sports, 7:30 p.m.).
Daytime Talk
Kelly Ripa: Marg Helgenberger, Mark Feuerstein, Mario Lopez. The View: Tom Arnold, Thomas Horn, Max Von Sydow. The Talk: Dr. Sanjay Gupta, Erika Christensen. Ellen DeGeneres: Colin Firth, Uggie the dog. Wendy Williams: Queen Latifah. Rosie O'Donnell: Ricki Lake.
Late Talk
David Letterman: Marg Helgenberger, Michael Fassbender, Ellie Goulding. Jay Leno: Jennifer Garner, Ross Matthews, Parachute. Jimmy Kimmel: Will Arnett, Dana Gould. Jimmy Fallon: Bill Cosby, Anthony Mackie, Wale. Craig Ferguson: David Duchovny, Dr. Sanjay Gupta. Carson Daly: David Guetta, the Decemberists (rerun). Jon Stewart: Joe Nocera. Stephen Colbert: David Frum. Conan O'Brien: Shaun White, Jordan Peele, Sammy Adams. Chelsea Handler: Amy Brenneman, Moshe Kasher, Heather McDonald, Ben Gleib.