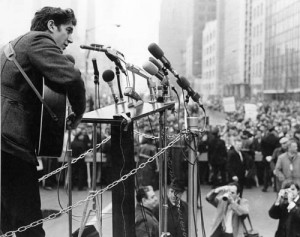 Bob Dylan got out of protest music about as quickly as he got in it, but his contemporary Phil Ochs stayed firmly in the field of activism and song, from the civil rights marches to the 1968 Democratic Convention and beyond. Of course, he name is not as well known as Dylan's, and that's partly what drove him crazy over the years – so did drink, depression and the shock of the deaths of Robert Kennedy.
His songs and his angelic voice on tunes like "I Ain't Marchin Anymore" continue to be sadly relevant in a world that hasn't changed so much in 50 years.
Kenneth Bowser's wide-ranging portrait "Phil Ochs: There But for Fortune," a box office hit that makes its TV debut tonight on "American Masters" (PBS, 10 p.m., check local listings) tells the tale, with a number of remarkable interviews, from Pete Seger and Joan Baez to Tom Haydn, Abbie Hoffman and Jerry Rubin.
There's a lot of interview footage from Ochs as well before he died of suicide in 1976. Before then, he reunited with Dylan at a rally he organized for Chile.
Anthony Zimmern leaves out the exotic bugs for now in his new series "Bizarre Foods America" (Travel, 10 p.m.), opting to travel to U.S. cities to taste their odd cuisine. So he finds an elk casserole in his hometown of Minneapolis and goes off to hunt for snapping turtle.
"The Bachelor" (ABC, 8 p.m.) seems to have turned into a travel show as well. He flies the women off to Park City, Utah, and then Puerto Rico.
"Tavis Smiley" (PBS, 11 p.m., check local listings) throws a tribute to Etta James, who died Friday.
Wondering how they'll continue the story on "Alcatraz" (Fox, 9 p.m.).
But we can't be missing Blair's bachelorette party on "Gossip Girl" (The CW, 8 p.m.).
It's been a while since there's been a new "House" (Fox 8 p.m.).
Hilarie Burton of "One Tree Hill" does a guest turn on "Castle" (ABC, 10 p.m.) as a reality star turned murder suspect.
Does anybody else think it's funny that "Pretry Little Liars" (ABC Family, 8 and 10 p.m.) and "The Lying Game" (ABC Family, 9 p.m.) by Pat Robertson's "700 Club" (ABC Family, 11 p.m.)?
Known for his fluid camera and feminist point of view, Max Opuls' work in Hollywood is featured on Turner Classic Movies, with "The Reckless Moment" (8 p.m.), "Caught" (9:30 p.m.), "Letter from an Unknown Woman" (11:15 p.m.), "Exile" (1 a.m.), "La Ronde" (2:45 a.m) and "The Earrings of Madame De…" (4:30 a.m.).
In college hoops, it's Syracuse at Cincinnati (ESPN, 7 p.m.) and Texas A&M at Kansas (ESPN, 9 p.m.).
In women's college basketball, it's Tennessee at Notre Dame (ESPN2, 7 p.m.).
In NHL action, it's Blues at Red Wings (NBC Sports, 7:30 p.m.).
Daytime Talk
Kelly Ripa: Lucy Lawless, Peter Gros, Kevin MdHale, Kim Kardashian. The View: Katherine Heigl, Janet Evanovich, Rosemarie Terenzio. The Talk: Rachel Bilson, Paige Davis. Ellen DeGeneres: Shemar More, Kym Douglas. Wendy Williams: Alison Sweeney, Shanoa Hampton. Rosie O'Donnell: Kathy Griffin.
Late Talk
David Letterman: Mark Wahlberg, Heather Morris, Snow Patrol (rerun). Jay Leno: Michelle Williams, Josh Lucas, Chris Cornell (rerun). Jimmy Kimmel: Kiefer Sutherland, Bear Grylls, Young the Giant. Jimmy Fallon: Tina Fey, Jean Dujardin, Handsome Dick Manitoba, the War on Drugs (rerun). Carson Daly: Cee-Lo Green, Reggie Watts, Delta Spirit (rerun). Jon Stewart: Kathleen Sebelius. Stephen Colbert: Bruce Bueno De Mesquita. Conan O'Brien: Casey Anderson, Morena Baccarin, Wilco. Chelsea Handler: Alexa Chung, April Richardso, John Caparulo, T.J. Miller, Ross Mathews.