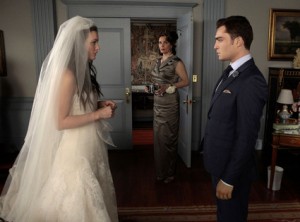 "Gossip Girl" (The CW, 8 p.m.) reaches a couple of milestones tonight.
It's its 100th episode, for one thing, making it ripe for syndication down the road. More substantially, it's Blair's wedding to Prince Louis. Seems just yesterday her biggest ambition was to be queen bee at high school. Not everybody is happy about the fancy nuptials. Chuck Bass for one is stewing.
The new series "The Amandas" (Style, 8 p.m.) follows the home organizing business of Amanda LeBlanc.
"RuPaul's Drag Race" (Logo, 9 p.m.) may be one of the worst reality shows on TV, but at least it knows it's bad. From that comes a lot of entertainment.
You can at least count on some good names among the contestants. For the fourth season hat includes Phi Phi O'Hara, Lashauwn Beyond, DiDa Ritz and Jiggly Caliente. But there is also William, who is obviously not long for the competition. Elvira is guest judge for the premiere and there' s even an aftershow, "Drag Race: Untucked" (Logo, 10:30 p.m.).
Just in time for the Florida primary is the latest political talk show. "The War Room with Jennifer Granholm" (Current, 9 p.m.) follows "The Young Turks with Cenk Uygur" (Current, 7  p.m.) and "Countdown with Keith Olbermann" (Current, 8 p.m.), Hosted by the former governor of Michigan, it has the possibility of being a little more even-handed then her colleagues, or at least less confrontational.
The mood in Florida on the eve of its primary is tested on "Rock Center with Brian Williams" (NBC, 10 p.m.).
The eleven girls left on "The Bachelor" (ABC, 8 p.m.) get to go to Puerto Rico's Vieques Island.
Bridgit Mendler of "Good Luck Charlie" guest stars as a homeless teen on a new "House" (Fox, 9 p.m.).
A particularly gross episode of "Fear Factor" (NBC, 9 p.m.) that would have involved drinking donkey semen and urine has been pulled at the last minute by the network, which is replacing it with a rerun of an episode involving throwing up insects. Even NBC has its standards.
A new telenovela, "El Talisman" (Univision, 8 p.m.), starts tonight, starring Blanca Soto, Rafael Novoa and Aaron Diaz.
A timely movie today marks the 40th anniversary of "Sunday Bloody Sunday" (TMC, 10:30 p.m.), the event that inspired the 2002 film.
The first hour of a three (!) part "The Real Housewives of Beverly Hills Reunion" (Bravo 9 p.m.) may possibly discuss the suicide that resulted from this season's filming. But don't count on it.
Taking up as much time as the event itself, two different shows dissect the styles at Sunday's Screen Actors Guild Awards: "Fashion Police" (E!, 10 p.m.) and "Screen Actors Guild Awards Fashion Wrap" (TV Guide Network, 8 p.m.).
How did a soccer mom become a crack addict? It may be explained on "Intervention" (A&E, 10 p.m.).
For the season finale of "The Mortified Sessions" (Sundance, 8 p.m.), in which celebrities are confronted with their childhood artifacts, Bryan Cranston examines an old report card. Danny Pudi is also featured.
Watch the 2003 movie "Anger Management" (Starz, 7:13 p.m.) and wonder to yourself: Is this the stuff of a new cable sitcom starring Charlie Sheen? (It's coming this summer to FX).
Joan Fontaine is the star on Turner Classic Movies tonight, with "Jane Eyre" (8 p.m.), "The Constant Nymph" (10 p.m.), "Born to Be Bad" (midnight), "Suspicion" (2 a.m.) and "Ivanhoe" (4 a.m.).
In college hoops, it's Missouri at Texas (ESPN, 9 p.m.).
Daytime Talk
Kelly Ripa: Channing Tatum, Dan Abrams. The View: Stone Phillips, Regis Philbin, Gavin DeGraw. The Talk: Neil Patrick Harris, Heather Bauer, Pat Harvey. Ellen DeGeneres: John Krasinski, 2Cellos. Wendy Williams: Jessica Alba, Terrell Owens. Rosie O'Donnell: Dr. Mehmet Oz.
Late Talk
David Letterman: Jennifer Lopez, Rob Schneider, Jmes McCartney. Jay Leno: Madonna, Chris Colfer, Joe Perry. Jimmy Kimmel: Kate Walsh, Marc Maron, Fishbone. Jimmy Fallon: Glenn Close, Emmy Rossum, Nada Surf. Craig Ferguson: Don Cheadle, Andrea Riseborough. Carson Daly: Nelson George, Tom MOrello, Bear Hands (rerun). Jon Stewart: Lou Dobbs. Stephen Colbert: Laurence H. Tribe. Conan O'Brien: Maya Rudolph, Chris Gethard, Dale Earnhardt Jr.. Chelsea Handler: Wanda Sykes, Brad Wollack, Jen Kirkman, Dov Davidoff.