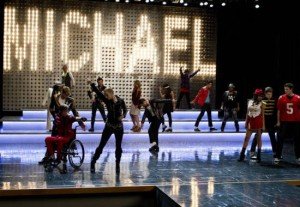 "Glee" (Fox, 8 p.m.), which has previously had episode-long salutes to Madonna, Britney Spears and Lady Gaga. So it's about time they donned the one glove to salute Michael Jackson.
It happens tonight as they continue their endless campaign to prepare for Regionals, singing 10 MJ songs along the way. It kicks off with a New Directions ensemble for "Wanna Be Startin' Something" with Darren Criss taking lead; Amber Riley and Chord Overstreet duet on "Human Nature," and Kevin McHale and Harry Saun Jr. on "Scream." Plus here's some story stuff to resolve.
Nothing will get wrapped up, though, in the results of the Florida Republican Primary (CNN, Fox News, MSNBC, 8 p.m.). But there will be a lot of speeches.
"Kay & Peele" (Comedy Central, 10:30 p.m.), a new sketch comedy show in the "Chappelle's Show" format that features former "MadTV" players Keegan-Michael Key and Jordan Peele in various sketches that play up their mixed race heritage that brings them a lot of range in both the characters they play and how they play them. It's the most promising new sketch show on Comedy Central in some time. Here's my longer review of it for Salon.com.
It premieres following the anticipated fourth season of 'Tosh 2.0' (Comedy Central, 10 p.m.).
Hey you thought "Joe Millionaire" was a catch: Here's a new show "Undercover Princes" (TLC, 10 p.m.), in which bachelor princes from around the world gather in Brighton, England to find their potential princesses – under cover of course. It follows another new title, "Sorority Girls" (TLC, 9 p.m.) in which American sisters travel to England to try and start the Greek college traditions and seek pledges there — probably a pretty bad idea.
The season finale of "Celebrity Wife Swap" (ABC, 9 p.m.) features Antonio Sabato jr. trading his spouse for that of wrestler Mick Foley.
The season finale of "Tori & Dean: Home Sweet Hollywood" (Oxygen , 10 p.m.) ends with the birth of another baby. Quick, get it to sign the release forms.
The actor and producer George Clooney goes "Inside the Actors Studio" (Bravo, 8 p.m.) for a two-hour kickoff to James Lipton's 18th season.
"Ringer" (The CW, 9 p.m.) returns after a two month hiatus and still Sarah Michelle Gellar is trying to impersonate the missing sister also played by Sarah Michelle Gellar.
There's another oxycodone dealer to be found on "Justified" (FX, 10 p.m.).
The trampoline challenge on "The Biggest Loser" (NBC, 8 p.m.) sounds plain dangerous.
Despite the show title, it is Nick and Winston who get the storylines this week on a new "New Girl" (Fox, 9 p.m.). For Nick, it concerns dealing with his girlfriend, the Zooey Deschanel lookalike Lizzie Caplan.
Jane gets to go to Paris – or the ABC Family equivalent of it — on a new "Jane by Design" (ABC Family, 9 p.m.).
"Jamie's American Road Trip" (BBC America, 10 p.m.)  chef Oliver travels down the Georgia coast to Florida.
Joe Manganiello of "True Blood" guest stars on a new "White Collar" (USA, 10 p.m.).
Chardonnay rejects Jason's proposal on a new episode of "The Game" (BET, 10 p.m.).
I sort of like the reality competition "Ink Master" (Spike, 10 p.m.) because the contestants who mess up their designs do some real damage on the guinea pigs getting the work done. The show should probably have a spin-off: "The Ink Removal Master."
On a new "Joan & Melissa: Joan Knows Best?" (We, 9 p.m.) Joan goes to Madim Tussauds and almost gets left behind.
The 2011 Governors Award Winners from the Academy of Motion Picture Arts and Sciences are featured on Turner Classic Movies. The makeup artist Dick Smith is saluted with two of the films he worked on, "Requiem for a Heavyweight" (8 p.m.) and  "House of Dark Shadows" (10 p.m.); and the actor James Earl Jones, represented by his films  "Claudine" (midnight), and "Gardens of Stone" (2 a.m.).
Maybe Joaquin Phoenix was telling the truth after all when he said he was quitting the movie business in "I'm Still Here" (Showtime 2, 9 p.m.).
College hoops incudes Michigan State at Illinois (ESPN, 7 p.m.), Clemson at Virginia (ESPN2, 7 p.m.), Tennessee at Kentucky (ESPNU 7 p.m.), North Carolina at Wake Forest (ESPNU, 9 p.m.) and Vanderbilt at Arkansas (ESPN, 9 p.m.).
In the NHL it's Capitals at Lightning (NBC Sports Network, 7:30 p.m.).
What's the earliest Super Bowl coverage? "NFL Tonight" (ESPN2, 10 p.m.) from Indianapolis.
Daytime Talk
Kelly Ripa: Rachel McAdams, Daniel Radcliffe. The View: John Stamos. The Talk: Kunal Kayyar, Simon Helberg, Sara Leibowitz, Pat Harvey. Ellen DeGeneres: Simon Baker, Kristen Bell. Wendy Williams: S. Epatha Merkerson, Suzanne Johnston. Rosie O'Donnell: Dermot Mulroney, Stephanie Izard.
Late Talk
David Letterman: Stephen Merchant, Girls' Generation. Jay Leno: Michelle Obama, mark Harmon, Imelda May. Jimmy Kimmel: Martin Scorsese, Kenneth Branagh, Angels & Airwaves. Jimmy Fallon: Jack McBrayer, Jeff Musial, J. Cole. Craig Ferguson: Ringo Starr. Tavis Smiley: Dr. Richard Jackson. Carson Daly: Rich Eisen, Alison Klayman, the Horrors. Jon Stewart: Jonathan Macey. Stephen Colbert: Bjork. Conan O'Brien: Simon Helberg, Chris Kyle, John Roy. Chelsea Handler: Jenny McCarthy, Sabra Ricci, Chris Franjola, Heather McDonald, Gary Valentine.