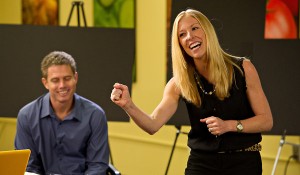 Because it's home to the great ad men series "Mad Men," AMC seeks to further explore the world of advertising in "The Pitch" (AMC, 9 p.m.).
It's a look at what supposedly happens every day in the contemporary ad world, structured like a reality competition, in which two firms are invited to share their ideas and one of them wins the contract. In this, it's rather like a task on "Celebrity Apprentice" without the celebrities. But it's a little surprising how bereft of ideas these agencies are.
There's no way the producers would bring back Charlie Sheen to "Two and a Half Men" (CBS, 9 p.m.) after the big hubbub. They killed off his character, for Pete's sake. So to bring him back, as a ghost they hired someone completely different to portray him: Kathy Bates. Yeah, sometimes all it takes is a bowling shirt.
It's classical week on "Dancing with the Stars" (ABC, 8 p.m.) so Joshua Bell and that pipsqueak Jackie Evancho show up to perform.
On "The Voice" (NBC, 8 p.m.) the final eight finally perform head to head – two from each coach's teams – in the semifinals.
In the new "Money from Strangers" (MTV, 10:30 p.m.), passerby are offered cash to pull pranks on strangers. This can't be good. Or very entertaining.
Something big is supposed to be happing on "Gossip Girl" (The CW, 8 p.m.) but something less than the unveiling of the title character.
Sweeps means no reruns to the Monday network shows and a crossover episode of "Hawaii Five-O" (CBS, 10 p.m.) regarding chemical warfare that will involve the stars on "NCIS: L.A." in a two part episode that concludes on that show Tuesday.
Time for out of town tryouts in Boston for the show on "Smash" (NBC, 10 p.m.). A Bachelorette party is thrown for Molly on "Mike & Molly" (CBS, 9:30 p.m.).
"Ridiculousness" (MTV, 10 p.m.), the poor man's "Tosh 2.0," begins a second season of trolling the web for th funny.
Hugh Laurie also directs tonight's episode of "House" (Fox, 9 p.m.).
A zombie invasion is a distinct possibility on "Castle" (ABC, 10 p.m.).
"Make It or Break It" (ABC Family, 9 p.m.) was canceled last week, making this season its last.
"Anthony Bourdain: No Reservations" (Travel, 9 p.m.) visits Lisbon. "Top Gear" (BBC America" goes to the Texas Motor Speedway.
The work of director jean Negulesco is featured tonight on Turner Classic Movies, with "Nobody Lives Forever" (8 p.m.), "The Conspirators" (10 p.m.), "Daddy Long Legs" (midnight), "Humoresque" (2:15 a.m.) and "The Mask of Dimitrios" (4:30 a.m.).
Stanley Cup Playoffs continue with Capitals at Rangers (NBC Sports, 7:30 ap.m.) and Kings at Blues (CNBC, 9 p.m.).
NBA playoffs have Knicks at Heat (TNT, 7 p.m.), Magic at Pacers (NBA, 7:30 p.m.) and Mavericks at Thunder (TNT, 9:30 p.m.).
In Monday Night Baseball, it's Rangers at Blue Jays (ESPN, 7 p.m.).
Daytime Talk
Kelly Ripa: Donald Trump, Elise Testone, Pat Kiernan. The View: Lady Colin Campbell, Dr. Adam Ostrzenski, B.o.B. The Talk: Michael Ealy, Trisha Yearwood. Ellen DeGeneres: Diane Keaton, Donald Driver & Peta Murgatroyd.
Late Talk
David Letterman: Don Rickles, Carrie Underwood. Jay Leno: Steve Martin, Rashida Jones, Steve Martin and the Steep Canyon Rangers. Jimmy Kimmel: Vanessa Williams, Jonny Lee Miller, Andrew Bird. Jimmy Fallon: Chris Evans, Allison Williams, Tom Morello with Ben Harper. Craig Ferguson: Jim Gaffigan, Cat Cora. Tavis Smiley: Bill Bennett. Carson Daly: Dave Giuntoli, Meg Myers, Bomba Estereo. Jon Stewart: Zach Wahls. Stephen Colbert: Diane Keaton. Conan O'Brien: Alec Baldwin, Damon Wayans Jr., Yelawolf (rerun). Chelsea Handler: Mary McCormack, Sarah Colonna, Dan Maurio, Ryan Stout.