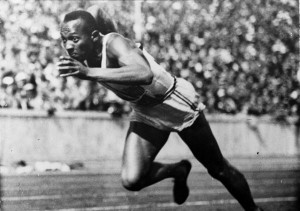 Soon, we'll be swimming in Olympic coverage.
So it's good to catch early the fine portrait of 1936 gold medal winner Jesse Owen on "American Experience" (PBS, 8 pm., check local listings). His astonishing achievements in the face of Hitler's Nazi games are remarkable moments in history, disproving the Furher's assumptions about a master race before the world's eyes.
For all the glory he brought to the U.S., though, he was mistreated when he came back, couldn't get a hotel room in New York city, and was made to participate in humiliating competitions, such as racing a horse, to feed his family.
The film makes good use of period footage so we can see the power and technique of the sprinter, who effectively ended the era of the social footrace for amateurs with his blazing speed.
Other documentaries tonight include "Secrets of Bin Laden's Lair" (Discovery, 10 p.m.) on the one year anniversary of his killing.
The other one year anniversary TV is excited about: "William & Kate: One Year Later" (TLC, 8 p.m.).
But it's the 20th anniversary of the L.A. Riots, so there's a musical look back: "Uprising: Hip Hop and the L.A. Riots" (VH1, 9 p.m.), narrated by Snoop Dogg.
The finale of "The Biggest Loser" (NBC, 8 p.m.) is between brother and sister Conda and Jeremy Britt and Kim Nielsen. Winner gets $250,000; the previously eliminated candidates weigh in for their own $10,000 prize. Then they all go out for cake.
Whoopi Goldberg plays the dean judging the performance auditions of Rachel and Kurt for the New York Academy of Dramatic Arts on "Glee" (Fox, 8 p.m.). So it's a bigger deal for them than regionals.
Suddenly the final four are unveiled on "The Voice" (NBC, 9 p.m.) after four others are eliminated.
It might be back to the "Little House on the Prairie" (Hallmark, 8 p.m.) for Melissa Gilbert tonight; she got the lowest numbers from judges on "Dancing with the Stars" (ABC, 9 p.m.) for classical night. Gavin DeGraw, dismissed himself a couple weeks back, returns to sing instead.
Don't miss the very instructive, kind of scary, concluding half of the "Frontline" (PBS, 9 p.m., check local listings), report on the economic meltdown and the missteps in trying to mitigate it.
"NCIS: Los Angeles" (CBS, 9 p.m.) concludes the two part crossover episode that began Monday night on "Hawaii Five-O," with Scott Caan and daniel Dae Kim guest starring. The mothership "NCIS" (CBS, 8 p.m.), meantime, travels to Italy in persuit of a possible bomber.
Justin Long returns on a new "New Girl" (Fox, 9 p.m.).
It's the first season finale for the Tim Allen comedy "Last Man Standing" (ABC, 8 p.m.), very likely to return next season, but so far not officially picked up.
Jessica Simpson is going to have to have her baby sometime. But probably not on "Fashion Star" (NBC, 10 p.m.).
What makes people on shows like "The Real Housewives of Orange County" (Bravo, 9 p.m.) think they can perform? Gretchen Rossi tries tonight, making her debut with th Pussycat Dolls.
The first half of Martin Scorsese's rich rock bio "George Harrison: Living in the Material World" (HBO2, 8 p.m.) gets a replay.
It's all about fishing on tonight's Turner Classic Movies with "Man's Favorite Sport?" (8 p.m.), "The Old Man and the Sea" (10:15 p.m.), "Flipper" (midnight), "Stromboli" (1:45 a.m.) and "The Toast of New Orleans" (3:45 a.m.).
It's all about Alaskan King Crab, meanwhile, on "Deadliest Catch" (Discovery, 9 p.m.).
In the Stanley Cup conference championships, it's Devils at Flyers (NBC Sports, 7:30 p.m.). In the NBA playoffs, it's Celtics at Hawks (NBA, 7:30 p.m.), 76ers at Bulls (TNT, 8 p.m.) and Nuggets at Lakers (TNT, 10:30 p.m.).
Daytime Talk
Kelly Ripa: Daniel Dae Kim, Samantha Ronson, Pat Kiernan. The View: .Ryan O'Neal, Lady Antebellum. The Talk: Poppy Montgomery, Louisa Graves. Ellen DeGeneres: Jessica Alba, Scott Caan, Pauly D.
Late Talk
David Letterman: Seth Meyers, Father John Misty. Jay Leno: Cameron Diaz, William Shatner, Lee Brice. Jimmy Kimmel: Civil Twilight. Jimmy Fallon: Mark Fuffalo, Mario Batali, Steve & JoAnn Ward, Santigold. Craig Ferguson: Jesse Tyler Ferguson, Lennon Parham. Tavis Smiley: Robin Roberts, Jason Mraz. Carson Daly: Jim Gaffigan, LP, Ed Sheeran. Jon Stewart: David Barton. Stephen Colbert: Carne Ross. Conan O'Brien: Sofia Vergara, Paul F. Tompkins, Tig Notaro (rerun). Chelsea Handler: Michael Yo, Natasha Leggero, Gary Valentine.