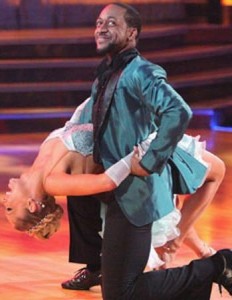 Jaleel White, TV's onetime Steve Urkel, was the latest celebrity to be eliminated from "Dancing with the Stars" Tuesday. His ouster came after a rumba dance-off with another low vote-getter, Roshon Fagan, the Disney star whom judges unanimously chose to continue in the contest.
White leaves despite the fact that Melissa Gilbert is faring much worse among judges – her average score is 22.3 compared to White's 24.9. But the former "Little House on the Prairie" actress is apparently popular among home voters, who have kept her in.
This week was the first that someone got a perfect 30 out of 30 for a performance – and it wasn't frontrunner Katherine Jenkins, NFL star Donald Driver, or even Latin telenovela star William Levy; it was Maria Menounos, whose vampire themed paso doble was the first to draw straight 10s from the judges.
That moved her up to second in average judges scores for the season, with 26.1. But Jenkins, the British opera singer, is still ensconced on top, with an average a full point higher, 27.1.