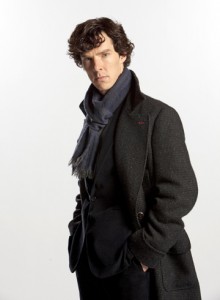 He's been remade on film dozens of times, but the version created by Steven Moffat and embodie by Benedict Cumbertatch for a BBC/PBS coproduction that plays here on "Masterpiece Mystery" (PBS, 9 p.m., check local listings) has enlivened the sagas from Baker Street.
The clever Moffat, who also helped energize "Doctor Who," brought Holmes into the 21st century and punctuated the stories with all manner of text messages and electronic cues of the modern age. It helps that Cumberbatch is brainy and exciting and a bit of mysterious in his eccentricities in the title role, and that he has a more down to earth and humorous companion in Martin Freeman as Watson.
But it comes down to the sharp scripts by Moffat and Mark Gatiss.
"It's a thrill to get a script as intelligent and as smart as Steven's are," Cumberbatch told reporters via satellite from London at the TV Critics press tour earlier this year.
"It is a rare challenge, for an audience and for an actor, to take part in something with this level of intelligence and wit. And you have to play with it. You have to really enjoy it.
"It is hard," he said. "It's a sort of form of mental and physical gymnastics. It's hard literally sometimes in the cold of winter on the first series and in the heat of summer on the second to actually get the words out without beads of sweat dripping down or your jaw freezing in a kind of rictus grin of cold Englishness.
"It takes a lot of effort to play clever. It takes very little effort to look clever, as I found out through my character for some reason," Cumberbatch said. "And it's the sort of challenge that you just have to run, and I really do. I absolutely love every minute of it as hard as it can be. It's a thrill. It's a thrill to bring something to an audience that isn't patronizing as well. It really is."
And since the success of the first series, it's fun to be popular as well, the actor says.
"To be received with so much love, it's a validation the audiences have very much they may or may not understand the first viewing, just have such a rich texture of detail to enjoy that they can go back to it and get an awful lot of it the first time around as well, but it's something that rewards repeat reviewing viewing. And I think that's a good thing for it."
Whether it will become, in its second series, which begins tonight, as popular as the other "Masterpiece" hit, "Downton Abbey," remains to be seen.
But it's not as if they have to put on the hard-sell for "Sherlock." And yet Laura Pulver, who plays Holmes' intellectual match as a dominatrix in tonight's movie-length episode, "A Scandal in Belgravia, plunged ahead:
"Somehow with "Sherlock,' ", Pulver said, "they have managed to kind of combine exquisite writing with a great creative team with a visually stunning director that's Paul McGuigan, who just has made cinematography in television so unique, and then you have this cast, and it just seems the mix within that caldron has just created this wonderful, wonderful piece of televised drama."
Cumberbatch picked up on the praise game.
"People were working at the height of their game on this, and I think because of the success of the last series, people came to it with a little trepidation," he said. But, "across the board, the sound, the editing, the coloring even, it does look ravishing, this episode. I think everyone was just really at the top of their game."
It begins with a wrap of last season's cliffhanger with Moriarity and delves into the sexy new adventure.
Cumberbatch wouldn't talk much about his upcoming starring role in the next "Star Trek" movie other than "I'm hugely, hugely excited, and I'm very, very flattered. I like this anointing thing. It's Biblical."
But he realizes his opportunities grew from his breakout success on the first series of "Sherlock."
"It's very flattering," Cumberbatch says of the success. But he adds, "It's very important to remember that whatever scale you're working at, all your work is being received or approved of, it is a job. You have to do your job well, and so you can't get carried away by too much of it.
"I know it's quite a sort of sober English response," he said. "Don't get me wrong. I punched around and jumped around an awful lot at 1:00 in the morning whenever I found out that I'd been given a part in it. So you get very excited when you have anything of good news. But, yeah: you just treat each job as they come, and I have been working for nearly 10 years. I got started quite late in my 20s compared to an awful lot of people who are further ahead of me who are younger, and so not that it's a natural progression.
"I feel very, very fortunate and very blessed, but it has sort of happened gradually, but the last bit of it, the trip into being far more on the radar has been very sudden. There are interesting things that go with that, aren't there?"