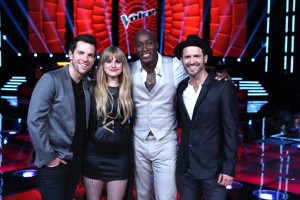 Suddenly, it's the finale of "The Voice" (NBC, 8 p.m.). Viewers will determine the winner after the final performances of Tony Lucca, the former Mouskateer; former Alicia Keys backup singer Jermaine Paul; the only remaining woman in the competition, Juliet Simms and opera singer Chris Mann. They have been coached by Adam Levine, Blake Shelton, Cee-Lo Green and Christina Aguilera,, respectively. A winner is crowned Tuesday.
A season finale comes for "Castle" (ABC, 10 p.m.) in which some sort of cliffhanger might be expected, as they flash back to the season three finale in which Beckett got shot.
But is it necessary for comedies to have season finales? Are there storylines to be resolved? On, say, "2 Broke Girls" (CBS, 8 p.m.), the ongoing ploy is that they want to start a cupcake company. So in the service of that, Martha Stewart pops up to encourage them in the hour-long episode that's probably two half-hour episodes run back to back.
"Dancing with the Stars" (ABC, 8 p.m.) still has a long way to go before crowning a winner; they're down to the final six.
With the musical "Bombshell" about to open out of town, there are problems all around on "Smash" (NBC, 10 p.m.). But at least they're out of tech.
Jason Alexander dons a wig to play Alan's cardiologist on the 200th episode of "Two and a Half Men" (CBS, 9 p.m.).
Brennan is shocked to what has happened to one of her books when it is turned into a movie on "Bones" (Fox, 8 p.m.).
"Mike & Molly" (CBS, 9:30 p.m.) are ready for their wedding rehearsal.
Here's an episode of "House" (Fox, 9 p.m.) where House goes missing.
How viewing habits will change are described in "Stay Tuned: The Future of TV" (CNBC, 9 p.m.).
Stanley Cup playoff games tonight have Capitals at Rangers (NBC Sports, 7:30 p.m.), and Predators at Coyotes (NBC Sports, 10 p.m.).
Here's one of the indepenendent films distributed by the late Beastie Boy Adam Yauch's Oscillosope Laboratories: Kelley Reichardt's 2008 "Wendy and Lucy" (Sundance, 8 p.m.) about the travels of a young woman from Indiana, played by Michelle Williams, en route to Alaska, who loses her dog. Robert Redford introduces it.
Following a two hour reunion of the seventh season of "Bad Girls Club" (Oxygen, 9 p.m.) here's a spinoff featuring a cast member from season two, now settling down, Tanisha Thomas, in "Tanisha Gets Married" (Oxygen, 11 p.m.). Can't be worse than "Don't Be Tardy for the Wedding" (Bravo, 6:30, 7 and 7:30 p.m.; 1:30 and 2 a.m.).
NBA playoff games have Spurs at Jazz (TNT, 8 p.m.) and Grizzlies at Clippers (TNT, 10:30 p.m.).
In baseball, it's Mets at Phillies (ESPN, 7 p.m.).
Mean streets is the theme on Turner Classic Movies tonight (though they don't show that Martin Scorsese film). Instead: "Crime in the Streets" (8 p.m.), "West Side Story" (10 p.m.), "The Young Savages" (1 a.m.), "The Purple Gang" (3 a.m.) and "And The Angels Wash Their Faces" (4:30 p.m.).
Daytime Talk
Kelly Ripa: Cameron Diaz, Skylar Laine, Michael Strahan. The View: Dr. Phil McGraw, Norah Jones. The Talk: Aaron McCargo Jr., Carnie Wilson. Ellen DeGeneres: Eva Mendes, Beth Stern.
Late Talk
David Letterman: Dr. Phil McGraw, Beth Behrs, Spiritualized. Jay Leno: Michelle Pfeiffer, Bear Grylls, Snow Patrol. Jimmy Kimmel: Kristen Stewart, Chloe Grace Moretz, B.o.B. Jimmy Fallon: Jennifer Connelly, Brian Wilson, Mike Love, the Beach Boys. Craig Ferguson: Poppy Montgomery, Steve Guttenberg. Tavis Smiley: Jonathan Haidt, Anthony Salcito. Carson Daly: Jenny McCarthy, 5 Second Films, Jessie Baylin. Jon Stewart: Sacha Baron Cohen as Admiral General Aladeen. Stephen Colbert: Andy Cohen. Conan O'Brien: Metta World Peace, Matt Walsh, the Lumineers. Chelsea Handler: James Van Der Beek, Jen Kirkman, Mo Mandel, Brad Wollack.