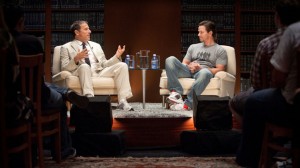 The second in a series exploring some of the most notable artistic collaborations of today, "AFI's Master Class: The Art of Collaboration – David O. Russell and Mark Wahlberg" (TCM, 10 p.m. and 1:15 a.m.) looks at the work of the director and actor, who have worked on "Three Kings," "I Heart Huckabees" and "The Fighter."
Neither of those films accompany the special, taped before AFI fellows studying filmmaking at the AFI Conservatory. But a few of the films they discuss as inspirations are: Raol Walsh's "The Roaring Twenties" (TCM, 8 p.m.) and "Man of a Thousand Faces" (TCM, 11 p.m.). The last entry in the field, from last year, is also replayed: "AFI's Master Class – The Art of Collaboration: Steven Spielberg & John Williams" (TCM, 2:15 a.m.).
"The Voice" (NBC, 9 p.m.) names a winner, at the top of a two hour finale that will include appearances by Justin Beiber Flo Rida, Lady Antebellum, Justin Bieber, Hall & Oates, every contestant and probably the judges as well.
Nick moves out of the house as "New Girl" (Fox, 9 p.m.) reaches its first season finale.
Twin comics Randy and Jason Sklar host the statistic heavy overview of the country, "United Stats of America" (History, 10 p.m.).
A motorcycle club is followed in the new reality series "The Devils Ride" (Discovery, 10 p.m.).
Three are sent home on an earlier than usual "Fashion Star" (NBC, 8 p.m.).
Prom occurs on "Glee" (Fox, 8 p.m.).
A hurricane is on its way to "Cougar Town" (ABC, 8:30 p.m.). Also: possible cancellation.
Carrie investigates a murder much like the one of her sister on the season finale of "Unforgettable" (CBS, 10 p.m.), the first year drama that hasn't yet been picked up for a second season.
Those who crave more of Lena Dunham's "Girls" (HBO2, 10 p.m.) may want to check out her 2010 movie "Tiny Furniture" (Sundance, 8 p.m.) which has many of the same stars and the exact sensibility as the new series.
Melissa Gilbert has to go one of these weeks on "Dancing with the Stars" (ABC, 9 p.m.). On a night of double elimination, it's inevitable. A salute to Dick Clark iand the return of Kenny Mayne are also part of the evening.
Equipment repair may not be the most exciting thing to happen on "Deadliest Catch" (Discovery, 9 p.m.), but it needs to happen.
The four hour Bill Clinton bio film on "American Experience" (PBS, 8 p.m., check local listings) gets a replay with its first half. Part two runs next Tuesday.
For a full concert, there's "Florence + The Machine Live from Radio City Music Hall" (Fuse, 9 p.m.).
Can't get into "The Avengers"? Try the "Fantastic Four: Rise of the Silver Surver" (Fox Movie Channel, 9 p.m.).
NBA playoff games include Heat at Pacers (NBA, 7 p.m.), Celtics at Hawks (TNT, 8 p.m.), 76ers at Bulls (NBA, 9:30 p.m.) and Nuggets at Lakers (TNT, 10:30 p.m.).
In the Stanley Cup playoffs, it's Devils at Flyers (NBC Sports, 7:30 p.m.).
Daytime Talk
Kelly Ripa: Stephen Colbert, Miss USA contestants, Michael Strahan. The View: Ricky Martin, Giada De Laurentiis, cast of "Evita." The Talk: Courtney Love, Linda Perry, Sabrina Soto, Carnie Wilson. Ellen DeGeneres: Johnny Depp, Chloe Grace Moretz, Michelle Pfeiffer, Alison Sweeney, Flo Rida.
Late Talk
David Letterman: Jim Parsons, Mika Brzezinski, Macy Gray. Jay Leno: Rick Santorum, Taylor Kitsch, B.o.B., O.A.R. Jimmy Kimmel: Johnny Depp, Casey Wilson, Silversun Pickups. Jimmy Fallon: Cameron Diaz, Michael Phelps, Of Monsters and Men. Craig Ferguson: Steven Tyler, Michael Phelps, Of Monsters and Men. Tavis Smiley: Sheryl WuDunn. Carson Daly: Erin Burnett, the White Buffalo. Jon Stewart: Ambassador Ivo Daalder. Stephen Colbert: Michelle Alexander. Conan O'Brien: Piers Morgan, Ben Falcone, Ed Sheeran. Chelsea Handler: Morgan Spurlock, Ross Mathews, Heather McDonald, Jo Koy.