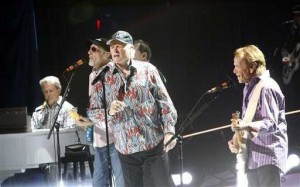 The discussion began when a friend with whom I had often shared enthusiasm in music sent another friend and me a note out of the blue regarding the reconstituted Beach Boys and their new song "That's Why God Made the Radio":
The new BBoys single is generating a lot of positive attention–from USA Today to the NY Times…(all the major papers)….There's no part of me that believes for a second that you guys haven't heard it. It might almost be fair to say it's reaching "hit" status….At lunch I was in Barnes and Noble and overheard two people excitedly talking about the single!…no joke  Both of my kids also had raves, (added to their ITunes) that I didn't force out of them….
And here's a simple (but amazing) stat –From wire service stories about the kickoff of their tour- "The legendary band continue to hold Billboard / Nielsen SoundScan's record as the top-selling American band for albums and singles, and they are also the American group with the most Billboard Top 40 chart hits (36)."
So they are the biggest selling American group ever, with the most amount of hits. Why isn't the tour, album and new single getting gigantic coast to coast coverage?…if the Beatles find an unused piece of a song fragment, it becomes the lead story in 85 cities–not to mention Africa and Tanzania.
I don't get it. …..36 Hits surprises even me!
PS….Roger–no doubt I will see you at Mohegan Sun on May 12?
He will not.
The other friend chimed in:
Never thought I'd live to see the day when Mike Love and Brian could put aside their personal and legal differences long enough to make music again. Maybe next, the Arabs and the Israelis will make peace. Or Van Morrison will make up with Bert Berns.
Have not heard the new single yet, believe it or not. I read the "Rolling Stone" review of the BBs first gig and it sounds like a very interesting set list – lots to please the casual fans and the diehards. Too bad it's no longer possible for Jan and Dean (with or without Bob Greene on guitar) to flesh out the bill with them. Here's hoping they add "Johnny Carson" to the set list!
I may have been too flip in my response however:
I have to tell you gentlemen, I have no appetite for the Beach Boys 90th anniversary tour after seeing that horrible display on the Grammys. Let me listen to the original recordings, and save money for the "Smile" box, and enjoy when "I Just Wasn't Made for These Times" comes up occasionally on shows like "Mad Men" (as it did last week). My good will toward Brian sort of ended after the last "Pet Sounds" tour, and specifically those solo albums that I bought but didn't really play much. And the best you can say about this single is that it isn't horrible. I haven't seen the set list so I may be persuaded otherwise, but the addition of Mike Love to the Brian Wilson show isn't enough to lodge my wallet…especially now that I am a mere freelance writer…
Still, good to know someone out there is keeping the faith, Beach Boys-wise.
My first friend fired back:
Sir…will you stop impersonating Roger Catlin and allow the real one to respond? Anyone who saw the Grammys would say the Boys were surprisingly good.
The set list is readily available online and includes 42 songs. Including the greatly overlooked "All This is That." Reviews have been glowing.  Whoever you are–I will assume you'll next launch a rant about how over rated John Fogerty is. Enough, sir.
Then he included a quote from Lester Bangs:
"Their beauty is so awesome that listening to them at their best is like being in some vast dream cathedral decorated with a thousand gleaming American pop culture icons."
I wrote back: "I would agree with Mr. Bangs 100% regarding the Beach Boys in the time of which he spoke. (He did die 30 years ago)."
The other friend was more diplomatic:
I know where you're coming from. I missed the BBs' appearance on the Grammys, but I read that it was dreadful in the sense that they suffered the indignity of having to share the stage with Mumford & Sons or one of these newfangled groups.  Couldn't the Grammy producers at least have given the BBs their own solo performance with no interlopers? Sheesh.
For some reason I've always been kind of a Mike Love fan despite the nasal quality of his singing and the Republican quality of his public comments. I know it's perverse of me.  Carl was my fave. I read today that "Sunflower" just dropped off Rolling Stone mag's list of 500 best albums, to make way for Kanye West.
The first friend replied a day later, after seeing the New York show:
It's a shame that you guys are missing out on one of the great musical stories of the year. I saw the BBoys last night at the Beacon Theatre, and they were as good as any other time I've seen them–and I've seen them about 8 times, even going back to Blondie Chaplin days. I mean this.
But don't take my word for it–the NY Times gave them plenty of kudos today. John Pareles doesn't suffer fools gladly as a writer–here's a link to the review.
Al Jardine in partcular is a marvel–and appears to have lost NOTHING in his voice. Mike and Brian made me proud last night. At one point, the audience erupted in spontaneous adulation of Brian, giving him a standing ovation for about 3 minutes. A special moment after he performed "I Just wasn't Made for These Times flawlessly and in perfect pitch. Sure, there were some flaws here and there and a few notes that couldn't be reached vocally–but very few of those. They were polished, well rehearsed and even showed some A Cappella chops.
My diplomatic friend replied:
I'm not missing out on it or boycotting it. I'm glad Brian and Mike have buried the hatchet, at least for now… Yeah Jon Pareles gave it a rave, I see. Glad you were able to see the show. I tend to associate the Beacon Theater more with 27-minute Allman Brothers guitar solos – this must have drawn a different crowd. I hope the BBs deliver with a good album next month. I've heard the new single and, while I'm not crazy about it, it's really not bad, in my view. Keep me posted on your BB activities
And I replied:
Nothing like pulling out the ol' Jon Pareles out when he agrees with what you think. As you know, rock critic opinions aren't worth anything (or otherwise you would also be the No. 1 Bruce Springsteen fan).
Yes, I have always had admiration for the songs but I can't imagine they'd be done better than they were on record or on the last few Brian tours I've seen. As much of a David Marks fan that I am (really, what's Kramer doing in the band still?) I have no need to see John Stamos on stage cavorting about. I can only imagine what the audience looks like. Oddly, I don't feel this way about the Rolling Stones, for the fact that Keith and Mick can still make sparks fly on stage occasionally and there's less careful replication going on.
I have no doubt that the Beach Boys tour will succeed. Indeed, it seems it already has, monetarily and artistically (for the simple fact that it makes Mike Love stop singing and bragging about Kokomo in concert for the first time in 24 years). [Correction: He IS still singing that stupid song] But I am no longer made of money, (and I have to save for the next Springsteen appearance…)
He wrote back, mostly responding to my other friend:
I read a Beach Boys feature article recently that alleged that "MIU" was the worst album by a major group ever released. While I do think that's a bit harsh, I don't feel it has held up as one their finer moments. But I might actually agree with you that "Good Timin"  was the last "great" BBoys song. Though I will confess–and Roger will surely jump all over this–that I have a very guilty affection for "Getcha Back" and even "Hot Fun in the Summertime." (from their last group album with Carl, alleged to have only sold 4,000 copies.)
Before I could write back and talk about how much the new single borrowed from the oldies "Silhouettes" and "You Only Live Twice," he also  attached a link to a performance on "Late Night with Jimmy Kimmel" that, amazingly, was pretty good.