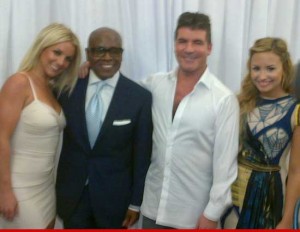 As if to underscore how ineffectual and indecisive Paula Abdul and Nicole Scherzinger were as judges of "The X Factor" in its first season, two new pop singers turned vocal judges were named to replace them Monday.
Britney Spears and Demi Lovato were unveiled as new judges for the singing show for their season starting in the fall, joining Simon Cowell and L.A. Reid, with whom they posed for a Twitter photo, right.
Simon Cowell said he was delighted with the additions, calling Spears someone "who knows exactly how to spot 'The X Factor" and Lovato someone who "speaks to your younger audience. The new panel will be dynamic and will work really well with the changes we are making to the show."
Those changes weren't described.
"I couldn't be more excited," Spears said in a statement. "I'm a huge fan of the show and now I get to be part of the action. Simon and L.A. better watch out!"
Lovato, a former child star on "barney" who moved to Disney sitcoms before being put in rehab for treatment for bulimia and self-injury, said,  "To be able to spend each week with Simon, L.A. and Britney watching the best that America has to offer is truly a dream come true."