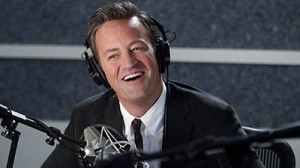 In an attempt to kickstart something at its long struggling network, NBC announced a whopping 16 new shows for its 2012-2013 season – six comedies, five dramas and four new reality shows.
It also said its one hit of the current season, "The Voice" will be returning again in the fall, though most reality competition shows are once a year events – the second season of "The Voice" just ended a week ago.
Of the six comedies, one is set at the White House, "1600 Penn" from a writer of "Modern Family," Jason Winer and a former White House speechwriter, Jon Lovett, starring Bill Pullman, Jenna Elfman and Josh Gad.
"Animal Practice" with Justin Kirk of "Weeds," Tyler Labine and Bobby Lee and a capuchin monkey in a lab coat!
"Go On" stars Matthew Perry in another sitcom attempt as a sportswriter in therapy.
Jimmy Fallon produced the sitcom "Guys with Kids" about 30something fathers, with Anthony Anderson, Jamie Lynn Sigler ant Tempestt Bledsoe that may come off like one of his Capital One commercials.
"Next Caller" stars Dane Cook as a satellite radio DJ in a comedy with Jeffrey Tambor.
Anne Heche stars as a housewife turned prophet in "Save Me" with Alexandra Breckenridge and Michael Landes.
New from Ryan Murphy of "Glee" fame is the comedy "The new Normal" aobut a gay couple who develop a relationship with their surrogate mother, with Andrew Rannells Justin Bartha and Georgia King along with Ellen Barkin and Nene Leakes.
The new dramas include "Chicago Fire," from "Law & Order" creator Dick Wolf about firefighters in the windy city, with a large ensemble cast that includes Jesse Spencer, Taylor Kinney.
"Do No Harm" stars Steven Pasquale of "Rescue Me" as a neurosurgeon with a dark alter ego.
Hannibal is not about the first century Carthaginian leader, but the movie villain Hannibal Lechter, in the early days. From Bryan Fuller of "Pushing Daisies" fame.
"Infamous" is about murder and mystery among the 1 percent, with Victor Garber, Tate Donovan and Meagan Good.
"Revolution" is a fantasy about life in the post-apocolyptic future from J.J. Abrams and Jon Favreau and featuring Billy Burke, J.D. Pardo Giancarlo Esposito and Andrea Roth.
New reality shows include "Howie Mandel's White Elephant" a game show based on keeping or stealing a gift box and guessing what's in side.
"Ready for Love," a dating matchmaking show from Eva Longoria, "Stars Earn Stripes" in which celebrities go through military bootcamps, from Dick Wolf, and "Surprise with Jenny McCarthy" a prank show.
Returning to NBC are "Community," "Parenthood" "Smash" and "Whitney" as well as "30 Rock," "Betty White's Off Their Rockers," "Dateline," "Fashion Star," "Grimm," "Law & Order: SVU," "Parks and Recreation," "Rock Center with Brian Williams," "The Biggest Loser," "The Celebrity Apprentice," "The Office," and "Up All Night."
Not returning are first year shows "Awake," "Are You There Chelsea?" "Harry's Law" "The Firm" "Best Friends Forever" and Bent" as well as reality shows "The Sing-Off," "Minute to Win It," "The Marriage Ref," "Fear Factor," and the long ago canceled "Free Agents," "The Playboy Club," and "Prime Suspect." "Chuck" also marked its final season in January.