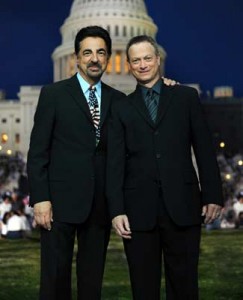 Live from the West Lawn of the U.S. Capitol, The National Memorial Day Concert 2012 (PBS, 8 p.m., check local listings) features rock band Daughtry, singer Natalie Cole, country singer Trace Adkins, "American Idol" runner-up Jessica Sanchez, tenor Russell Watson and the National Symphony Orchestra.
The concert also includes participation of former Secretary of State Colin Powell, actors Ellen Burstyn, Dennis Franz and Selma Blair. Gary Sinise and Joe Mantegna, pictured, return to host the show, that will be repeated in many markets at 9:30 p.m.
A Memorial Day tribute on Turner Classic Movies features "Sergeant York" (8 p.m.), "Tora! Tora! Tora!" (10:30 p.m.), "West Point" (1 a.m.), "Germany Year Zero" (2:45 a.m.) and "PT 109" (4:30 p.m.).
War finally comes to King's landing on the second to last episode of the season for "Game of Thrones" (HBO, 9 p.m.).
And "60 Minutes" (CBS, 7 p.m.) honors troops with a series of reports as well.
All they will say about tonight's episode of "Mad Men" (ANC. 10 p.m.) is this: "Don's challenged by a pitch and Peggy contemplates a trip." Well doesn't that kind of thing happen every week?
On "The Killing" (AMC, 9 p.m.), things are getting mighty suspenseful at that casino construction site.
There's a pregnancy scare on "Veep" (HBO, 10 p.m.).
The biggest party in Bushwick has plenty of consequences on "Girls" (HBO, 10:30 p.m.). One is: Shoshanna accidentally smokes crack.
The series finale for "Harry's Law" (NBC, 8 p.m.) means TV will be deprived of a David E. Kelley legal yarn on TV from David E. Kelley, who previously produced "L.A. Law," "The Practice" and "Boston Legal." It was a pretty good role for Kathy Bates, as an ornery attorney along the lines of "House," who also signed off this week. Are all the cranky characters leaving TV?
The only other non-rerun among non-newsmagazines on network TV tonight is "NYC 22" (CBS, 10 p.m.).
And there are two, two-hour, same-week reality show reruns – the start of "Duets" (ABC, 8 p.m.) and the auditions in Los Angeles and St. Louis on "America's Got Talent" (NBC, 9 p.m.).
An interview with Cory Booker is a timely entry for "Oprah's Next Chapter" (OWN, 9 p.m.), though it was likely filmed before the most recent kerfuffle.
"Nick News with Linda Ellerbee" (Nickelodeon, 9 p.m.) focuses on Asian Pacific Americans, telling their stories.
Contestants on the "Food Network Star" (Food, 9 p.m.) are given a "Chopped" style competition. Also inspired by another TV show, "Cupcake Champions" (Food, 8 p.m.) makes cupcakes inspired by "Glee."
It's game 1 for Thunder at Spurs (TNT, 8:30 p.m.) in the NBA playoffs. Nothing today in the Stanley Cup playoffs.
And in baseball, Nationals at Braves (ESPN, 8 p.m.) gets a national audience.
Sunday Talk
ABC: Defense Secretary Leon Panetta. CBS: Advisers Robert Gibbs and Ed Gillespie, Sen. Dick Lugar. NBC: Newt Gingrich, Gov. Martin O'Malley, Mayor Antonio Villaraigosa, Carly Fiorina. CNN: Sen. Patty Murray, former Army Vice Chief of Staff, retired Gen. Peter Chiarelli, Iraq and Afghanistan Veterans of America founder and director Pau Rieckhoff, American Legion Legislative director Tim Tetz. Fox News: Sen. John McCain, Washington Archbishop Cardinal Donald Wuerl.