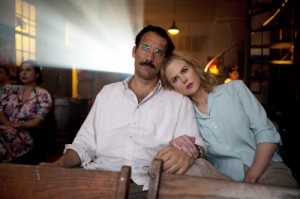 Among its other uses, Memorial Day is a time to mark summer's start, when people spend less time with their TV shows, networks take off their best shows, fill time with reality programming and just maybe dump big projects that didn't turn out so well.
That's the assumption one could make about both the two plus hours of "Hemingway & Gellhorn" (HBO, 9 p.m.) and the six hours of the miniseries "Hatfield & McCoys" (History, 8 p.m.).
Both projects have gotten praise from other TV critics, but I have to say, they both were grade A clunkers on my set.
"Hemingway & Gelhorn" may be the biggest surprise, since HBO films are so consistently strong. This one began life as a big screen sweeping theatrical romance that the network took over. Clive Owen plays the writer big, as an exaggerated misogynist caricature, like the dude in Woody Allen's "Midnight in Paris" given a new life. Nicole Kidman is out of her element, supposedly playing a tough talking war correspondent who nonetheless looks like a soft-faced model, whose greatest asset is showing off her backside in pants as the film starts.
But then the Spanish Civil War looms, and the two each go there to help, meeting other big name characters from history from John Dos Passos to Tolstoy, played by a repertoire company that includes David Strathairn, Mollly Parker, Parker Posey, Tony Shalhoub and, in an unsung role, Metallica drummer Lars Ulrich.
For a film about writers, it's got some awfully stilted dialogue, a few clichéd scenes, some jarring "Zelig" scenes of placing the Hollywood stars into old footage, and no dramatic shape. The thing just keeps going on and on. But if you stick with it, the Hemingway suicide scene is memorable in its excess.
Excess is also the byword of "Hatfield & McCoys," a feud that carried on for decades in the Appalachian hills, only to become part of the lexicon at the turn of the century, just about the time it was ending. Kevin Costner and Bill Paxton play the grizzled patriarchs of the warring clans, and each tries to bring something to the table as principled religious men who must seek revenge. But it's the young 'uns who go off all half cocked and keep the things going, and like the feud itself, the miniseries just goes on too long, with one attack begetting a murderous revenge, which of course must be avenged anew.
Eventually, it's endless revenge shooting, with only about five minutes of interesting stuff going on in each hour. That it's on the History channel makes it seem a little more wasteful – a docudrama is not as valuable as the facts put before you in a documentary.