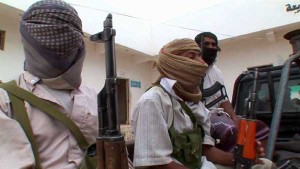 Leave it to brave journalists to infiltrate the Al Qaeda compounds in Yemen. The Guardian's Ghaith Abdul-Ahad does so, and with a camera crew for "Frontline" (PBS, 10 p.m, check local listings), give a glimpse of their life in the cities where they have taken over. It begins with a glimpse of the black and white Al Qaeda flag.
The fascinating report is paired with a story on Fahd al-Quso, an Al Qaeda operatve killed in a U.S. drone strike in Yemen earlier this month.
It comes after the concluding half of "Civilization: the West and the Rest with Niall Ferguson" (PBS, 8 p.m., check local listings) in which the historian who has been considering what made western civilization take over the world wonders whether the popularity of blue jeans helped bring down the Berlin Wall – and whether China will lead the East to dominate the world soon. The argument includes a fascinating pairing of religion and economic success.
"Cougar Town" (ABC, 8 p.m.) bids farewell to network television with a third season finale featuring the wedding of Grayson and Jules and the appearance of Courteney Cox's ex, David Arquette. It moves to TBS next year.
New to network TV (for a while at least) is "The Catalina" (The CW, 8 p.m.), a reality series about a hotel on South Beach, focusing on its hard-partying employees.
The impending Diamond Jubilee of Queen Elizabeth II is noted with a two hour edition of "20/20" (ABC, 9 p.m.) titled "The Jubilee Queen with Katie Couric."
The slackers and party animals of "Workaholics" (Comedy Central, 10:30 p.m.) tag along on an important work trip, where they all plan to drop acid. The season premiere comes after the summer bow of the accompanying "Tosh 2.0" (Comedy Central, 10 p.m.).
If the Apple commercial hasn't caused Zoey Deschanel overkill,  four straight episodes of "New Girl" (Fox, 8, 8:30, 9 and 9:30 p.m.) will.
A two hour "Deadliest Catch" (Discovery, 8 p.m.) is followed by a new episode of "The Devils Ride" (Discovery, 10 p.m.).
"The L.A. Complex" (The CW, 9 p.m.) has been getting some spectacularly low ratings. Last week, only about 450,000 watched. Don't expect much more to tune in for tonight's first season finale of the Canadian import.
Auditions continue from Tampa on "America's Got Talent" (NBC, 9 p.m.).
Guess what happens on night two of "Hatfields & McCoys" (History, 9 p.m.)? Revenge and counter revenge. Part one is repeated at 7 p.m.; the concluding part three is Wednesday.
The guys from "Hollywood Treasure" (Syfy, 10 p.m.) look to acquire the mansion from the first season of "American Horror Story."
"What Not to Wear" (TLC, 9 p.m.) targets a woman in Long Island for the season premiere. It's followed by the new reality series "Big Brooklyn Style" (TLC, 10 p.m.), that looks at life at a plus-size fashion store, Lee Lee's Valise.
Daisy Fuentes hosts the seventh season start for "HGTV Design Star" (HGTV, 9 p.m.).
The plain clothes and simple lifestyle seen in "Amish: Out of Order" (National Geographic, 9 p.m.)  here's another religious sect getting its moment in the spotlight: "American Colony: Meet the Hutterites" (National Geographic,10 p.m.), filmed in remote Montana.
"The Real Housewives of Orange County" (Bravo, 9 p.m.) decide to bicker in an exotic locale: Cost Rica.
Michelle Obama is making the talk show rounds — on "The View" (ABC, 11 a.m.) and later on "The Daily Show with Jon Stewart" (Comedy Central, 11 p.m.), returning after a hiatus of more than a week.
And this ought to be fun: With Regis Philbin returning to TV as guest host of "Piers Morgan Tonight" (CNN, 9 p.m.), his guest is his old pal David Letterman.
Dorothy Dandridge is the star tonight on Turner Classic Movies, with "Carmen Jones" (8 p.m.), "Bright Road" (10 p.m.), "The Harlem Globetrotters" (11:30 p.m.), "The Decks Ran Red" (1 a.m.) and "Tarzan's Peril" (2:30 a.m.).
It's Thunder at Spurs (TNT, 9 p.m.) in game 2 of the NBA Western playoffs.
Tigers at Red Sox (ESPN, 7 p.m.) gets a national audience.
Daytime Talk
Kelly Ripa: Amy Brenneman, Jessica Sanchez, Ed Robertson. The View: Michelle Obama. The Talk: Miss Piggy, Rachael Harris (rerun). Ellen DeGeneres: Vince Vaughan, Kat Graham, Bethenny Frankel.
Late Talk
David Letterman: Stephen Colbert, Chloe Grace Moretz, cast of "Nice Work If You Can Get It." Jay Leno: Kristen Stewart, Chloe Grace Moretz, B.o.B. (rerun). Jimmy Kimmel: Kristen Stewart,  Randy Jackson, James Morrison (rerun). Jimmy Fallon: Cameron Diaz, Michael Phelps, Of Monsters and Men (rerun). Craig Ferguson: DJ Qualls, Wolfgang Puck. Tavis Smiley: Mattnew Weiner (rerun). Carson Daly: Ed Sheehan, Cults Wheeler Brothers, Schoolboy Q (rerun). Jon Stewart: Michelle Obama. Stephen Colbert: Charlize Theron. Conan O'Brien: Ringo Starr, Mark Moffett (rerun). Chelsea Handler: David Hasselhoff, Jeri Kirkman, Morgan Murphy, brad Wollack.