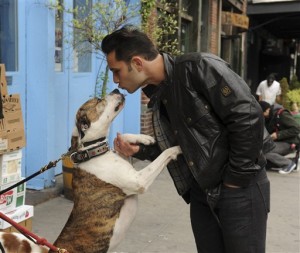 You know things are going to be thin on network TV this summer when one of the first new shows is a straight up knockoff of "The Dog Whisperer."
"Dogs in the City" (CBS, 8 p.m.) stars Joel Silver, who in much the same way helps New York dog behavioral issues. Like Cesar Milan, he spends as much time training owners as he does canines. But he does an awful lot of talking to the dogs. Instead of whispering, I guess.
His first case includes a skateboarding bulldog "who is a bit of an internet sensation" and a woman who brings her dog to the workplace, where it snaps at everyone. Does the show have to be an hour long?
For the finale of "America's Next Top Model" (The CW, 9 p.m.), in a season that pitted British models against those from the U.S. the finalists are from each country: Laura LaFrate, 20, from Scotia, N.Y., and Sophie Sumner, 21, from Oxford, England. More important, perhaps, is that this is the final episode for both the indispensible Jay Manuel and Nigel Barker, as well as runway coach  J. Alexander. Who will be left? Tyra Banks and Kelly Cutrone? Also next season, the public will have a hand in voting who stays and goes.
In a much more significant matchup, Game 1 of the Stanley Cup finals features Kings at Devils (NBC, 8 p.m.) in a rare primetime slot on network TV. It's game 2 of the Eastern conference finals of the NBA, with the Celtics at Heat (ESPN, 8:30 p.m.).
The three night miniseries "Hatfields vs. McCoys" (History, 9 p.m.), which posted some insane numbers the first night – with 13.9 million watching – comes to an end. Now they'll have to dig up the "Family Feud" episode that featured descendents of the warring clans, pitted against one another. And what kept the peace? A kiss for the women folk of each side from Richard Dawson.
The most popular show on the network, "Melissa & Joey" (ABC Family, 8 and 8:30 p.m.) returns for a second season, starring sitcom veterans Melissa Joan Hart and Joey Lawrence in the time honored sitcom roles of career woman and employee (though it didn't work too well on "Bent").
The remaining chefs in "Around the World in 80 Plates" (Bravo, 10 p.m.) move on to Marrakesh, Morocco.
Two more hours of Los Angeles auditions on "So You Think You Can Dance" (Fox, 8 p.m.) will make you want to say: Cue music!
It's snake night on PBS, on two separate editions of "Nova" (PBS, 8 and 9 p.m., check local listings) and an autopsie on two pythons, one of them nine feet long, on "Inside Nature's Giants" (PBS, 10 p.m., check local listings).
The sixth and final roommate returns to reminisce and mourn on "White Heat" (BBC America, 10 p.m.).
Barry Bostwick and Cybill Shepherd guest star on "Hot in Cleveland" (TV Land, 10 p.m.).
"Toddlers & Tiaras" (TLC, 10 p.m.) reaches a season finale after the Mississippi Sweet Pea pageant goes back into its pod.
A sneak preview of the new season of the former TLC coooking competition "BBQ Pitmasters" (Destination America, 10 p.m.) appears on the new Discovery offshoot where Planet Green used to be until this week. The series starts Sunday.
The month-long salute to Joel McCrea on turner Classic Movies comes to an end with "Ride the High Country" (8 p.m.), "The Tall Stranger" (9:45 p.m.), "Wells Fargo" (11:45 p.m.), "Fort Massacre" (1:15 a.m.), "Frenchie" (2:45 a.m.) and "Trooper Hook" (4:30 a.m.).
Yankees at Angels (ESPN2, 10 p.m.) gets a national audience.
Daytime Talk
Kelly Ripa: Melissa Joan Hart, Joshua Ledet, Martin Short. The View: Carmen Wong Ulrich, Rebecca Ferguson. The Talk: Michael Ealy, Trisha Yearwood (rerun). Ellen DeGeneres: Vanessa Williams, Sarah Hyland.
Late Talk
David Letterman: Robin Williams, Andrew Luck (rerun). Jay Leno: Kourtney, Kim & Khloe Kardashian, Donny Deutsch, Karmin (rerun). Jimmy Kimmel: Kristen Bell, Dax Shepard, Jason, Mantzoukas, the Cult (rerun). Jimmy Fallon: President Barack Obama, Dave Matthews (rerun). Craig Ferguson: Howie Mandel. Tavis Smiley: Frank Langella (rerun). Carson Daly: Kimbra, Tennis, Gary Clark Jr., Kendrick Lamar (rerun). Jon Stewart: Dan Rather. Stephen Colbert: Alan Alda. Conan O'Brien: John Krasinski, Jenny Slate, Evanescence (rerun). Chelsea Handler: Karmin, Jeff Wild, Natasha Leggero, Kerri Kenney-Silver.