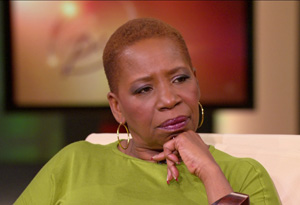 Iyanla Vanzant — the author, talk show host, inspirational speaker and no relation to Little Steven — has a new show on Oprah Winfrey's OWN Network in which she counsels women with personal struggles.
"Iyanla, Fix My Life" (OWN, 10 p.m.) has her in a talk show format in which she helps and advises people in the audience about relationship and family problems. It's the kind of thing that usually shows on weekdays, but I guess people stuck watching Oprah's network on Saturday night may need it more. It will regularly run on Sunday,
It's hockey night in Newark, with Kings at Devils (NBC, 8 p.m.) in Game 2 of the Stanley Cup finals. It's not the only sporting event in prome time, with Yankees at Tigers (Fox, 7 p.m.).
In the NBA playoffs, it's Spurs at Thunder (TNT, 8:30 p.m.).
Everything but 'Alice in Wonderland" are part of an all-Alice night on Turner Classic Movies, with Ellyn Burstyn in Martin Scorsese "Alice Doesn't Live Here Anymore" (8 p.m.), Mia Farrow in Woody Allen's 1990 "Alice" (10:15 p.m.), Peter Sellers in "I Love You, Alice B. Toklas" (12:14 a.m.), Arlo Guthrie in "Alice's Restaurant" (2 a.m.) and Geraldine Page in the 1969 "What Ever Happened to Aunt Alice?" (4 a.m.).
A new season comes for "It's Me or the Dog" (Animal Planet, 7 p.m.) in which dog lovers are encouraged not to love them quite so much.
The most difficult aquarium assignments are recounted on "Tanked: Most Challenging Tanks" (Animal Planet, 9 p.m.).
Three reruns from last season's "Secret Millionaire" (ABC, 8, 9 and 10 p.m.), herald the new season's premiere coming Sunday. It's not to be confused with "Undercover Boss: Abroad" (TLC, 9 p.m.).
Jim Carrey stars in the family friendly penguin movie "Mr. Pepper's Penguins" (HBO, 8 p.m.). Other new movies on premium cable tonight include Ryan Gosling and George Clooney in the political potboiler "The Ides of March" (Starz, 9 p.m.), directed by George Clooney;  and James Franco in the well-recieved prequel released last year, "Rise of the Planet of the Apes" (Cinemax, 10 p.m.).
Cameron Diaz is featured in both "What Happens in Vegas" (Fox Movie Network, 7:30 p.m.) and "There's Something About Mary" (Fox Movie Network, 9:30 p.m.).
Tale as old as time: The 1991 animated "Beauty and the Beast" (ABC Family, 7 and 9 p.m.), much better than the impending series of the same name from The CW.
Films and their sequels tonight include "Blue Crush" (E!, 8 p.m.) and "Blue Crush 2" (E!, 10 p.m.) and "Back to the Future" (HBO Family, 7 p.m.) and "Back to the Future II" (HBO Family, 9 p.m.).
All six hours of "Hatfields & McCoys" (History, 6 p.m.) run back to back.
The National and Band of Horses play a replay of "Austin City Limits" (PBS, 9 p.m., check local listings). The National also sang a song on this week's penultimate "Game of Thrones" (HBO, 10:15 p.m.).
The rerun of "Saturday Night Live" (NBC, 11:30 p.m.) is hosted by Zooey Deschanel, with Karmin as musical guest.