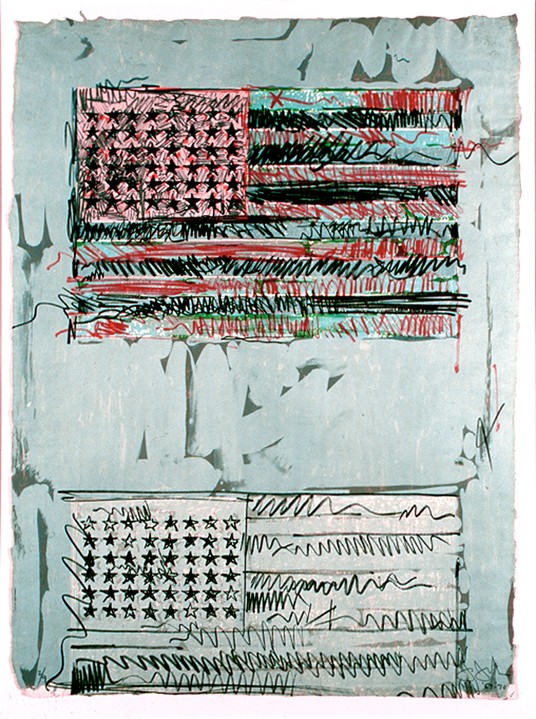 As the nation salutes the flag in its annual salute to the nation, with official ceremonies a few Metro stops away on the National Mall, the deconstructed flags of Jasper Johns are up for reconsideration at the Phillips Collection.
Johns' textured variations on the national symbols – and things as recognizable as target bullseyes – allowed him to concentrate fully on texture, color, rhythms and patterns, without thinking of content, which was fully taken care of by all the past emotions we may have poured into the stars and stripes.
He did the same with numbers – 0 through 9 – with a variation of emphasis in every plate; and also with subjects he kept rendering, such as the Severin coffee can serving as a paintbrush holder that appeared early in his career and returned for a 1977 Museum of Modern Art retrospective.
It employed a crosshatch pattern that is used to perfection on some other works, where the color of the lines are underpinned by headlines from the New York Times beneath the pigment.
The generous show covers work over a 50 year period spanning two centuries and includes not only an instructive look at the materials and processes of printmaking he used, but also a film where he produces an image.
Only recently did he introduce elements that reflected his own personality, according to the museum notes, with fragments of other artists' work he admired, an old family photograph and even the floorplan of his grandfather's house. A Halloween costume pattern is also indentified as personal. But  only in the way that the flag this time of year is personal also – to all of the viewers who infuse it with such meaning.
"Jasper Johns: Variations on a Theme" continues through Sept. 9 at the Phillips Collection.