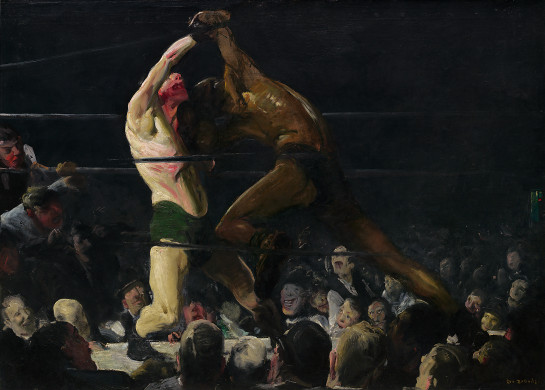 Another July Fourth came and went last week largely without that big American moment a person is supposed to feel on the occasion of the birthday of his country. It didn't happen at the fireworks, or in the blistering heat or the holiday marathons.
It did happen later in the week, though, when I visited the George Bellows exhibit at the National Gallery of Art.
You know Bellows from his vivid boxing oils, full of action and angst in the ring and twisted ugliness in the fans. But the wide-ranging show, featuring 130 paintings, drawings and lithographs, show how much more he was interested in, from working with the Robert Henri's Ashcan school and depicting the underbelly of New York in the throe of changing from its horse-drawn past to its teeming tenements of the early 20th century. He made portraits of street urchins that obviously poked at the portraits of the upper classes.
But he also chronicled the changes in the city, especially the huge excavations that preceded the building of Penn Station and Grand Central. There are lovely paintings of the Hudson, combining the industry of the river with its recreational uses.
Like his friend Edward Hopper, he was taken with scenes of Maine and especially the splashing seas surrounding Monegan Island, where he and his family spent three summers.
His drawings and lithographs of the poor – or of charlatan preacher Billy Sunday (which look for all the world like the contemporary illustrations of Steve Brodner) made his work in demand at activist magazines such as The Masses.
Before Bellows' death in 1925 at just 42, Bellows made a couple of other turns, making largely unremarkable large scale portraits of his own family and some strange, stilted fantasy paintings unlike anything he had done earlier.
Through it all, he managed to reflect a nation in all of its ambition, brute force and unexpected glimpses of beauty. It makes a viewer feel more American than the usual commercial bunting of the patriotic holiday.
"George Bellows" continues at the National Gallery of Art through Oct. 8.