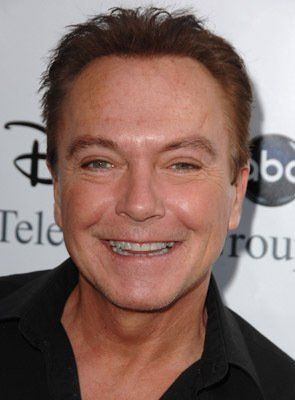 The last time I talked to David Cassidy, the forever young teen idol who died this week at 67, we chatted a bit about the unlikely guy who would become President.
At the time, Donald Trump was the Republican frontrunner in the primaries and known mostly to Cassidy as the guy who fired him on season four of "The Celebrity Apprentice." In fact, the pop star was the first to go that year.
"I was thrilled," Cassidy said. "I can't even tell you how delighted I was, not having to get up at 4:20 in the morning, be downstairs in makeup and clothes in New York City in late November I think it was, and working 12-13, 14 hours on a reality show, which i had never done before. I was thrilled when The Donald said I was fired. I went, Thank god!"
It wasn't the first time the pop star met the future president.
"When I met him first it was '80s, I want to say; maybe when I was on Broadway in '83 doing the original production of 'Joseph and the Amazing Technicolor Dreamboat.'
"He  was married to what's his first wife's name? Ivanka? I think. He's had so many blonde foreign wives, three or four I guess. But there's no disgrace. I've had three, the last one I'm still to married for  23 years.
"He was very what he is. First thing when I stepped on his yacht on 72nd street on the West Side of Manhattan, he said, "So David, where's the broads?" And I went, oh no."
Cassidy called Trump a chronic publicity seeker adding, "the idea he's never held public office [and is running for president] is ludicrous to me. He does anything screaming for attention. And the idea that he's a legitimate candidate seems to be I don't even know how to describe it — shocking. Some of the things I've heard him say are dangerous, they some go against the Constitution, and I think it's just not something I can envision at this time in our country. So I'm not a fan."
It wasn't just a grudge for being first to go on "Celebrity Apprentice," he assured me.
"Absolutely not. It has everything to do with his political aspirations and views. All you have to know, is that he's walking around, driving around, flying around with the female that ran for vice president eight years ago. It's preposterous to me. But it's done for a purpose, which is to get the Christian ultra-right wing conservatives.
"And I understand there's a place for that in our country. And they have every right as anybody does whatever your political ideology might be. I just don't get it. I really truly don't get it."
At the time, Cassidy was coming to town to play the Birchmere in Alexandria, Va. He kept touring sporadically throughout his career since he filled stadiums as a teen idol.
But the first time I talked to Cassidy, in 1991, he was embarking on his first tour in 15 years — one  with "Partridge Family" castmate Danny Bonaduce opening for him. As such, he was playing some of the old favorites for the first time in a while.
"I always said I'd never be a nostalgia act. And I turned down a lot of money to do that kind of thing," Cassidy said. "But as a result of stopping at the top — I mean, the last concert I played was for 40,000 people — you're not a joke, you're not sad, you're not pathetic; you leave with integrity. That was always a great chapter in my career. But now, having a presence, and having success today and being this musical persona I am today, I can go out and do the stuff I do today and also do the old stuff — like Paul Simon, like Don Henley, like anybody that's been out there for 20 years."
Practicing things like "I Think I Love You" and "Doesn't Somebody Want To Be Wanted," Cassidy said, "It's fun playing those old songs in rehearsal, because I'm singing them from a totally different perspective — as a guy who's been through some of these things. I'm singing songs that have real meaning to me. I understand what they mean."
Still, those pop songs never really reflected his own tastes, which veered toward harder rock, Jimi Hendrix and Cream.
"It's funny how one job can change your whole life," he muses. "I don't regret it, because I was able to do things I probably never could have done; I probably never would have made records. I feel real lucky."
He had the same gratitude last year.
"I happen to be so fortunate to be one of the guys whose influence was highly appreciated and is still doing it," he said. "Nobody's done it better than McCartney, or Elton. But Elton didn't have people screaming at him and girls. Now those females and fans — I had the largest fan club in history at one time in '74-5, they've stuck with me, a great part of them. And I am so grateful for it, because I get to do what I love to do and without them, I might be pumping gas."
"I'm doing what I love to do and I've never loved it as much as I do now. But I think as adults we tend to be able to appreciate what we've done, what we have, and everything in the world, our relationships, our  friends. It's a fantastic blessing."