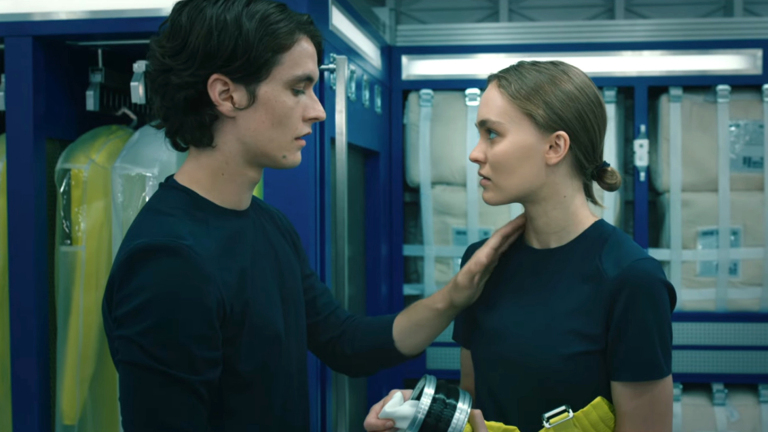 Neil Burger's space movie "Voyagers" (HBO, 8 p.m.), with Lily-Rose Depp, Tye Sheridan, Fionn Whitehead, Madison Hu and Colin Farrell, makes its premium cable debut.
College football dominates primetime broadcast TV, with Alabama at Texas A&M (CBS, 8 p.m.), Michigan at Nebraska (ABC, 7:37 p.m.) and Utah at Southern California (Fox, 8 p.m.) capping a day full of games listed below.
National League Divisional series have Atlanta at Milwaukee (TBS, 5 p.m.) and Dodgers at Giants (TBS, 9 p.m.), both in Game 2.
"Blue Period" (Netflix, streaming) is a new anime series about a high schooler who tumbles into the art world, with new episodes to be issued weekly. 
Aisha Tyler hosts the 18th season premiere of "Who's Line Is It Anyway?" (CW, 8 and 8:30 p.m.), leading into a couple of episodes of "World's Funniest Animals" (9 and 9:30 p.m.), having its second season premiere. Which is not to be confused with "America's Funniest Home Videos: Animal Edition" (Disney XD, 8 p.m.), 
There's surgery on a bison calf on the season 5 premiere of "The Zoo" (Animal Planet, 8 p.m.).
Bison also play a role in the 10th season premiere of "Dr. Oakley, Yukon Vet" (Nat Geo Wild, 9 and 10 p.m.).
On the new made-for-TV romance "South Beach Love" (Hallmark, 9 p.m.), two families try to outdo each other with quinceañeras. William Levy and Taylor Cole star in the adaptation of author Caridad Piñeiro.
The made-for-TV thriller "Dying to Belong" (Lifetime, 8 p.m.) is a remake of the 1997 of the same name about sorority pledges who endure hazing in order to write an expose. Janika Rose, Favour Onwuka and Shannen Doherty star.