Had my mind blown by the American Visionary Art Museum in Baltimore last week. It's a kind of haven for folk art, inspirational works of whimsy and monumental obsessional works by those who may be indeed touched. It's all housed in a splendid set of buildings decorated with the broken glass and mirror of folk art mosaics.
The museum itself, a supercool place that praises the work of the outsider artist defines visionary art as those from artists who are self-taught, often see their art as fulfilling a mission, do what they do in private (and are rarely discovered before they die, leaving a trove of their strange things behind) and they use unusual materials. For instance, think about this contemporary artist who convey art in an abstract way.
I was hooked immediately after seeing the 16-foot model of the Lusitania as rendered in 194,000 toothpicks by one Wayne Kusy. There are some great pointillism on the surviving paper plates an artist used for canvas, a throne from wooden yardsticks and another of bottle caps, sculptures out of radio tubes and carvings from Styrofoam cups.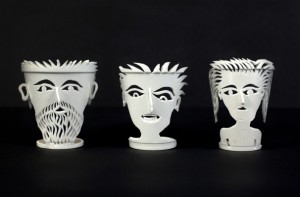 The stories of the individual artists are often as fascinating as the art itself. As in the case of Paul Darmafall, also known as The Baltimore Glass Man, it often involves examples of having been suspected mental problems or having been hospitalized.
A baker from Wisconsin who finger painted wayout space scenes for years is slowly becoming a collectable commodity. The centennial of the birth of Eugene Von Bruenchenhein is the cause for a 38-painting show on the third floor.
What surprised me was that some of the art celebrated in the galleries are for sale in the gift shop at reasonable prices. But they also had things like a mini Elvis bust and a rubbery baby mask that I also had to have.
We made a night of it, topping the evening with a meal at its restaurant, Mr. Rains Fun House/Restaurant, where the food, happily, was made by inspired professionals and not experimenting outsiders.
But you've really got to get up to the American Visionary Art Museum when you get a chance.