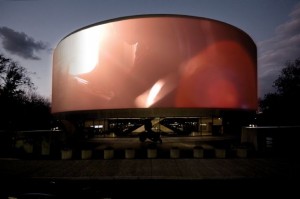 The biggest movie in Washington is showing nightly on the continuous, circular wall of the distinctive Hirshhorn Museum, the Doug Aitken installation "SONG 1" that opened Thursday night.
There on the three stories unfolds images of people in cars, alone on loading docks, working in kitchens or in factories or standing in parking lots, each singing or humming or reciting the lyrics to the haunting melody that keeps playing over and over – on the same 35 minute loop as the film, "I Only Have Eyes for You."
Although the song was introduced in a surreal dance number in a Busby Berkeley movie, "Dames," it's the Flamingos' haunting 1959 version, with its tick tock rhythms  that sets the tone of the various versions.
Still, there is variety: a pedal steel version, a couple of electronic variations, and just a little silence.
Aitken's filmed installations, which have shown on the walls of museums or on screens in moving barges, are good at depicting a kind of quiet isolation of city life. When a reporter suggested "SONG 1" reflected Los Angeles because much of it was shot there, Aitken vehemently disagreed. It was meant to be a more universal depiction of city living.
Some familiar faces can be found in the giant projections. Tilda Swinson, who has been seen in his previous work, returns again. John Doe – a veteran of music and film – is perect to stand in bolo tie and extended arms to sing his own version of the song. Devandra Banhart is there as well.
Hirshhorn deputy director and chief curator Kerry Brougher said the museum and Aitken have been working on the piece for a couple of years, but only since January did the artist decide after an epiphany to tie it to "I've Only Got Eyes for You."
The song effectively slows down the movement to a dreamlike state of some of his other works and gives a central unity to he otherwise random moments of city life, big and small.
The technological challenges of a convex 360-degree presentation seemed to worry him the least. Sometimes the images from the 11 projectors are the same on all sides of the building; other times they are different, demanding different vantages point each time it's seen. There are seams between images, as if caused by projectors but those come and go – they're not caused by projector placement at all.
It's a lovely atmosphere – dark, mostly otherwise quiet and on opening night art fans came as if to an al fresco film – blankets, picnics, quiet.
Others caught it unexpectedly, walking down the mall or jogging by. The music carries nearly as far as the image, which can be seen of course for blocks.
When the projectors first flashed on opening night, the invited art crowd missed it altogether. They were crowded in the basement auditorium watching Aitken click through a slideshow of previous work and saying little about the current one.
The idea is that the image speaks for itself. But if you can't get there right away, here's a nifty video shot by the Washington Post, an example of a past work by Aitken, and that weird Busby Berkeley film from so long ago: