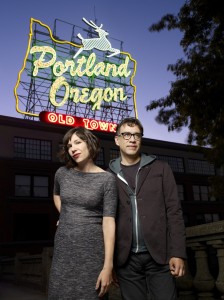 "Portlandia" (IFC, 10 p.m.) is such a funny show you wonder if Fred Armisen is being held back on "Saturday Night Live." More like he feels inspired to riff with his friend Carrie Brownstein to take their characters, largely poking gentle fun on hipsters in her adopted city, taking their story to absurd ends.
Tonight's second season preview is good, though you wouldn't know it from its absurdist "we Can Pickle That" ad that begins it. But episode two wanders into the Celebrate Allergy Pride parade and a great long segment about a couple of diehard fans of "Battlestar Galactica" who try to get its makers to do a new episode. It's one of the best comedy showcases on TV, and it's great to have it back. The new episode at 10 is preceded by just about every episode from season one in the three hours preceding it.
Following the new episode is the second season start for "The Increasingly Poor Decisions of Todd Margaret" (IFC, 10:30 p.m.), the international series that makes an art of the humiliation comedy.
David Cross returns as the super-hapless soul who has botched his sudden job to be a distributor of a terrible energy drink in England. More bad things happen to him, almost always of his own doing; Will Arnett returns as his cutthroat boss.
The Emmy-winning "The Wizards of Waverly Place" (Disney, 8 p.m.), staring Selena Gomez, closes shop tonight after four seasons and more than 100 episodes. It ends, on an hour long episode titled "Who Will Be the Family Wizard?" having been the Disney Channel's longest running series, playing in 169 countries in 32 languages.
On the other hand, a fourth season begins for the British import "Merlin" (BBC America, 10 p.m.).
If you haven't had enough of Iowa, "Extreme Makeover: Home Edition" (ABC, 8 p.m.) rebuilds a farmhouse there for a blind widow raising six children.
It's Arkansas vs. Kansas Sate in the Cotton Bowl (Fox, 8 p.m.) from Arlington, Texas.
The Los Angeles Philharmonic play an all Gershwin program on "Great Performances" (PBS, 9 p.m., check local listings).
The first new episodes for weeks come for "Nikita" (CBS, 8 p.m.) and "Supernatural" (The CW, 9 p.m.). The dramas on CBS are new tonight as well: "A Gifted Man" (CBS, 8 p.m.), "CSI: NY" (CBS, 9 p.m.) and "Blue Bloods" (CBS, 10 p.m.).
Betty Grable is featured tonight on Turner Classic Movies with "Pigskin Parade" (8 p.m.), "Yank in the R.A.F." (TCM, 10 p.m.), "My Blue Heaven" (TCM, midnight).
The "Underground" series later features two strange movies of the late 70s, "Little Darlings" (TCM, 2 a.m.) and "Ice Castles" (TCM, 3:45 a.m.).
In NBA action, it's Bulls at Magic (ESPN, 8 p.m.) and Trail Blazers at  Suns (ESPN, 10:30 p.m.).
Daytime Talk
Kelly Ripa: Kristen Bell, Jennifer Morrison, Melanie Amaro, Rob Lowe. The View: Justin Bieber, Mary J. Blige, J.R. Martinez. The Talk: Tom Selleck, Dolvett Quince. Ellen DeGeneres: Kirstie Alley, Jordyn Wieber. Wendy Williams: Rosie Perez, cast of "Mob Wives."
Late Talk
David Letterman: Kristen Bell, Dan Naturman, Blind Pilot. Jay Leno: Glenn Close, Trevor Noah, Van Hunt. Jimmy Kimmel: Don Cheadle, David Cross, Boyz II Men. Jimmy Fallon: David Duchovny, Wild Flag, David Murray. Craig Ferguson: Michael Clarke Duncan, Laura Prepon. Tavis Smiley: Jim Wallis (rerun). Carson Daly: Michelle Monaghan, J. Cole, Frightened Rabbit (rerun). Chelsea Handler: Liz Carey, Sarah Colonna, Keri Kenney-Silver (rerun).