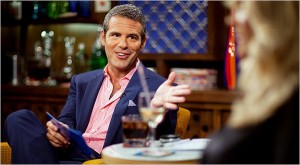 When it came time to expand the late night Bravo talk show "Watch What Happens Live," the first thing host Andy Cohen had done was expanding the liquor options.
"We built a bar in the Clubhouse in preparation for going five-night-a-week, which will be great because we serve our audience drinks during the show,"
Only about 18 can fit in the audience now. And in the guest seats will not only be members of the various "Real Housewives" shows, but stars from Tori Spelling and Rosie O'Donnell to Jimmy Fallon and Anderson Cooper to Ralph Fiennes, who is co-hosting a pajama party on the show Jan. 19.
"We're very excited about how the show is booking up and about the possibilities we can do," Cohen said this weekend at the TV Critics winter press tour in Pasadena. "Being the only live show in late night gives us so much flexibility and room for fun."
A new addition to the show will be Sandra Bernhard as a cultural correspondent, starting Monday.
"Sandra is going to be perched at the bar, and she's going to do a live rant about the week in pop culture as only she can do it,"Cohen says. "We're looking for more correspondents, and we just want to nurture new talent, new games, and just keep building on the fun that we're having."
And the guests will remain varied – as will their activities once they get there, he says.
"I love putting people in situations that you wouldn't expect to see them in.," Cohen says. "I love seeing weird combinations of people."
"Watch What Happens Live" runs Sundays through Thursdays at 11 p.m. on Bravo.