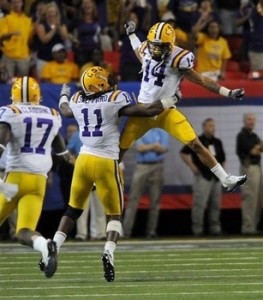 The college football season, and the parade of bowl games, finally culminates in the BCS Championship Game (ESPN, 8:30 p.m.) in New Orleans, with No.1 LSU vs. No.2  Alabama.
The rigors of the TV press tour have made these daily TV columns tardy. It usually doesn't matter with the primetime highlights, but it's already too late on the East Coast anyway to tell you about the debut this morning of still another variation of what is now called  "CBS This Morning" (CBS, 7 a.m.).
This one features PBS stalwart Charlie Rose, employing his "60 Minutes" skills, doing a more straightforward first hour of news, followed by Gayle King's more conventional lifestyle and entertainment dominant second hour. Rose will continue his other daily talk show; King won't, and maybe some viewers from the dominant "Today" (NBC, 7 a.m.) and "Good Morning America" (ABC, 7 a.m.) may want to sample it to see how it works. Wednesday, King interviews Michelle Obama.
Also this morning a new animated pirates preschool show "Octonauts" (Disney Channel, 11:30 a.m.) about eight cute animals who travel ocean depths in a pod for adventures.
"The Bachelor" (ABC, 8 p.m.) is already bringing his 18 remaining women to his hometown of Sonoma, Calif., for one-on-one dates. Wine will be involved.
But it won't be as wild as the goings on "Love Games: Bad Girls Need Love Too" (Oxygen, 10 p.m.). It's preceded by a couple of previous episodes that go head to head with "The Bachelor." It'd be fun to flip back and forth between them.
"Castle" (ABC, 10 p.m.) returns after what seems like a long absence.
The money lady starts a new series for her pal Oprah, "Money Class with Suze Orman" (OWN, 9 p.m.).
Also new is Oprah's own hoarding show "Extreme Clutter" (OWN, 10 p.m.) in case you need some more of this kind of stuff after "Hoarders" (A&E, 9 p.m.).
Something strange has happened to the Discovery Channel suddenly as it has filled up with such series as "First Week In" (Discovery, 9 p.m.) about the first week in prison, and "Mobster Confessions" (Discovery, 10 and 10:30 p.m.), profiling some who got mixed up with organized crime figures. They are both preceded by a replay of the finale of "Gang Wars: Oakland" (Discovery, 8 p.m.).
Charisma Carpenter joins the cast of "The Lying Game" (ABC Family, 9 p.m.) as Char's aunt.
Just learned that "Pretty Little Liars" (ABC Family, 8 p.m.) is the most tweeted about series on TV.
Clash fans will want to take in a replay of the documentary "Joe Strummer: The Future is Unwritten" (TMC, 8 p.m.).
In college basketball, it's West Virginia at Connecticut (ESPN2, 7 p.m.) and Oklahoma at Oklahoma State (ESPNU, 7 p.m.).
Contagions infect Turner Classic Movies tonight with "The Andromeda Strain" (8 p.m.), "The Last Man on Earth" (10:15 p.m.), "The Satan Bug" (midnight), "The Killer that Stalked New York" (2 a.m.) and "80,000 Suspects" (3:30 a.m.).
Daytime Talk
Kelly Ripa: Mark Wahlberg, Tori Spelling & Dean McDermott, Jorge Cruise, Reggie Bush. The View: Roxanna Green. The Talk: Kaley Cuoco, Paul Bartolotta. Ellen DeGeneres: Kelly Osbourne, Servin Lalezary, Nolan Gould, Gavin DeGraw. Wendy Williams: Brandy Norwood, Andy Cohen.
Late Talk
David Letterman: Mark Wahlberg, Heather Morris, Snow Patrol. Jay Leno: Janet Jackson, Larry the Cable Guy, Eli Young Band. Jimmy Kimmel: Channing Tatum, Ben Flajnik, Uh Huh Her. Jimmy Fallon: Mark Wahlberg, Napoleon Dynamite, Surfer Blood. Craig Ferguson: Howie Mandel, Randy Houser. Tavis Smiley: Christoph Waltz, Hill Harper (rerun). Carson Daly: Mike White, Seven Grand Whiskey Society, Biffy Clyro (rerun). Jon Stewart: George Lucas. Stephen Colbert: Melissa Harris-Perry. Conan O'Brien: Seth Green. Chelsea Handler: Kaley Cuoco, John Caparulo, Natasha Leggero, Ryan Stout.  Andy Cohen: Sandra Bernhard, Anderson Cooper, Camille Grammer.