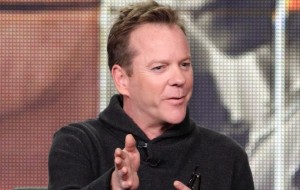 Kiefer Sutherland wasn't keen to return to TV after eight seasons and 200 episodes of the iconic series "24."
Then someone handed him a script while he was on Broadway for "That Championship Season."
"I was on about page 35," he told reporters at the TV Critics winter press tour, and he knew he was in trouble.
"It was just so beautifully written, and it presented itself as an opportunity."
The result is "Touch," a complex story about a father trying to reach his emotionally challenged son, who seems tuned into a widespread underlying mathematical matrix.
Just as "24" was stamped with the era of 9/11, which occurred a few weeks before its premiere, so is "Touch," as it emerges that his wife perished in the terrorist attack.
Yet the key to the series is the mute young man and a cell phone that connects key people around the world.
"The script was not originally written with Kiefer in mind," says creator Tim Kring, whose last big series on TV was "Heroes."
"It was unbelievably appealing because it was so different, and then I just emotionally responded to the piece in such a strong way that, by the end of it, I realized that if they would have me, this was certainly something I wanted to do," Sutherland says.
In many way his character is the opposite of the intense Jack Bauer, he says. "In '24,' to have to repress all of this stuff and carry that with me informed the character beautifully for me," he says. But, he adds, "To be able to have the antithesis of that … where he can openly show and have an emotional reaction to what is actually happening at this exact moment is another fantastic opportunity."
It was the emotional content that attracted him, Sutherland says. "Does it happen to also be a nice diversion from '24'? Yes. But I believe, honestly, that the choice and the reason that I made the choice was because it spoke to me."
Sutherland hasn't put Jack Bauer entirely away. He says shooting may commence as soon as April or the beginning of May on the "24" movie.
"Touch" has a sneak preview on Fox Jan. 25 on Fox; the season begins March 19.