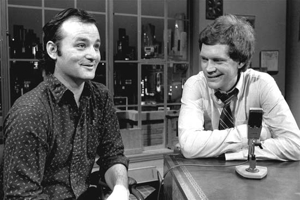 "The Late Show with David Letterman" (CBS, 11:35 p.m.) is marking the host's 30th anniversary in late night television with tonight's show.
It ties the record set by Johnny Carson, who put in his three decade at the same "Tonight Show" (NBC, 11:35 p.m.). Letterman split his late night career so far between NBC and CBS.
Tuesday night, Bill Murray brought in a cupcake with a lethal number of candles in it and presented a lurid oil portrait of himself to hang in the lobby of the Ed Sullivan Theatre that said Dave's Favorite Guest, 1982-2012.
Murray had been the first late night guest for Letterman, way back when, and he was the first on the couch when he moved his show to CBS. But Howard Stern has also been a favorite guest on the show; he'll be on tonight. Maybe he'll bring his own portrait as well.
Super Bowl fever increases a bit each day; today the focus goes to the ads that cost so much to run. "Super Bowl's Greatest Commercials 2012" (CBS, 8 p.m.) looks at ads from the past, but some of this year's crop are already running (inclding a Ferris Beuller update).
"American Idol" (Fox, 8 p.m.) moves its auditions to Portland, Ore.
It's followed by another one of Howie Mandel's "Mobbed" (Fox, 9 p.m.) seeking to reunite feuding brothers.
John Cleese guest stars on a new "Whitney" (NBC, 8 p.m.)
Other than new episodes of "One Tree Hill" (The CW, 8 p.m.) and "Remodeled" (The CW, 9 p.m.), everything else on network TV is a rerun. Don't worry, this won't last much longer – February sweeps start Thursday.
Fossils from the Ice Age are dug up on a new "Nova" (PBS, 9 p.m., check local listings). Later, on "Inside Nature's Giants" (PBS, 10 p.m., check local listings), a great white shark is dissected.
"My 600 Pound Life" (TLC, 9 p.m.) is a new series in which its subject slowly shed their pounds over a seven year period.
The "31 Days of Oscar" season begins on Turner Classic Movies with a focus on winning films based in Philly: "Rocky" (8 p.m.), "The Philadelphia Story" (10:15 p.m.), "David and Lisa" (12:15 a.m.), "The Young Philadelphians" (2 a.m.) and "The Valley of Decision" (4:30 a.m.) which happens closer to Pittsburgh.
In college hoops, it's Baylor at Texas A&M (ESPN2, 9 p.m.). In the NBA, it's Clippers at Jazz (ESPN, 10:30 p.m.).
In hockey, it's Rangers at Sabres (NBC Sports, 7:30 p.m.).
Daytime Talk
Kelly Ripa: Jennifer Lopez, Girls' Generation, Howie Mandel. The View: Julianne Moore, Kellie Pickler. The Talk: Dr. Phil McGraw, Nancy O'Dell. Ellen DeGeneres: Drew Barrymore, Octavia Spencer, Flo Rida. Wendy Williams: Dermot Mulroney, David Custer. Rosie O'Donnell: Jerry Springer.
Late Talk
David Letterman: Howard Stern, the Airborne Toxic Event. Jay Leno: Daniel Radcliffe, Vanessa Hudgens, Evanescence. Jimmy Kimmel: John Krasinski, Eloise Mumford, Gotye. Jimmy Fallon: Tracy Morgan, Tim Tebow, Deion Sanders, All American Rejects. Craig Ferguson: William Shatner. Tavis Smiley: Michael Hastings. Carson Daly: Glenn Howerton, Michael Olmos, Youssef Delara, We Were Promised Jetpacks. Jon Stewart: Brad Pitt. Stephen Colbert: Ameena Matthews. Conan O'Brien: Ringo Starr, "Dr. Bugs" Mark Moffett. Chelsea Handler: Don Cheadle, Michael Yo, Natasha Leggero, Josh Wolf.