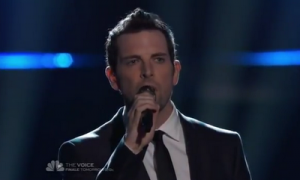 The problem with a two hour final for "The Voice" is that just one of the three songs watch of the four finalists sing is supposed to be the basis of a viewer vote.
And the other high profile, full-length songs they sing – one a duet with their judge, the other a cover of a hit by their judge? Strike them from the record, your honor. They are inadmissible.
Easier said than done. Actually viewer votes are based on all kinds of things, including personality, how the singer interacts with others and maybe even fashion choices. And one of the four will be named new winner Tuesday night.
It seems like it will be between former Alicia Keys backup singer Jermaine Paul and opera singer Chris Mann (pictured), just because they dialed up the emotion for the kinds of songs that win such competition: The former, "I Believe I Can Fly"; the latter "You Raise Me Up."
Opera singers all seem to have a good chance on NBC talent competitions; two have won various seasons of "America's Got Talent." People treat them more seriously and respond to their training, perhaps. Mann helped his case by doing equally in his duet of "Prayer" with his mentor Christina Aguilera and his version of her very well suited hit, "The Voice Within."
As strong as his competition song was, the other two songs from Paul seemed throwaways – "Soul Man" and a cover of a Blake Shelton hit.
There was some contention over the competition song of Tony Vacca, the former Mickey Mouse Club member who Aguilera seems to have something against. She called him one-dimensional earlier and Monday said his choice of song, Jay-Z's "99 Problems" was disrespectful to women.
It would have been had he sang the whole line "99 Problems – and the Bitch Ain't One." But he indulged in some self-censorship, so he didn't say the word at all. With shows on TV from "GCB" to "Don't Trust the B..— in Apt. 23," Bitch is the go-to no-say word on network TV.
In actuality, it was kind of a non-starting version, done with a blues rock melody that was never present in the original – more of a gimmick than successful cover (like his cover of Britney Spears on an earlier week). Worst of all, it failed to show off any vocal ability. He did one of Adam Levine's Matchbox 20 songs and did a duet with him of a Beatles ballad.
After the powerhouse women who dominated the final four last year, Juliet Simms seemed a mediocre sole female in the finals this year. With a competent rock voice she used it on the most overused songs: "Freebird," for goodness sake; and "Born to be Wild" with Cee-Lo Green. Guess which of his songs she covered? "Crazy" in a very ordinary approach.