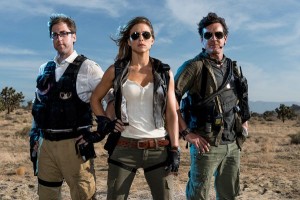 It isn't so much the truth as it is a cool TV show they're seeking in the new series "Chasing UFOs" (National Geographic Channel, 9 and 10 p.m.).
A team of UFO chasers follow up on reports of sightings and try to find out if there could have been some saucers involved.
First stop is Stephenville, Texas, where so many people saw the huge saucer in 2008, they fill a town meeting to talk about it.
In a second episode, those who film UFOs are forever since followed by white vans, are afflicted by paranoia or both.
Even considering the enthusiasm of hosts James Fox, Erin Ryder and Ben McGee, the shows move at a deathly pace, making you wonder instead: Is there intelligent life on earth?
For the international cast assembled for the new series "XIII" (Reelz, 9 p.m.), British actor Stuart Townsend plays a secret agent who was wiped of his emory and his face by a government that abandoned. He's got nothing left but the tattoo that became his name: XIII. Aisha Taylor plays a Secret Service agent who is his ex; French actress Virginie Ledoyen plays a mercenary.
The Olympics themselves are just under a month away but prime time is full of the U.S. Olympic Team Trails. Swimming (NBC Sports, 4:30 p.m.; NBC, 8 p.m.); continues from Omaha. And in prime time, it's followed by the first day of competition of Women's Gymnastics (NBC, 9 p.m.) from San Jose, including a few names you know including Nastia Liukin and Alicia Sacramone. Earlier, there's U.S. Olympic Team Trials in Track & Field (NBC Sports, 6 p.m.).
Some non Olympic sports, such as skateboarding and Moto X, hold competitions, meanwhile in The X Games (ESPN, 9 p.m.) from Los Angeles.
"Twilight: Los Angeles" isn't the latest title of the vampire saga. It's the title of Anna Deavere Smith's one woman show that is suddenly very timely again, about the 1991 beating of Rodney King, who died June 17, and the riots that followed his acquittal. It runs on "Great Performances" (PBS, 10 p.m., check local listings). The telecast comes on the eve of King's funeral service in Los Angeles.
Would Karl Pilkington make a good soldier? He wonders on a new episode of "The Ricky Gervais Show" (HBO, 9:15 p.m.).
A murder in the Hamptons consumes an edition of "20/20" (ABC, 9 p.m.).
The network special "Justin Bieber: All Around the World" (E!, 8 p.m.) gets a cable replay.
Evacuating the Brigitte Bartot is a problem on "Whale Wars" (Animal Planet, 9 p.m.).
A second series starts for "My Babysitter's a Vampire" (Disney Channel, 8 p.m.).
Jack Abramoff, Amy Goodman, Gavin Newsom, Fareed Zakaria and Lizz Winstead are scheduled guests on a new "Real Time with Bill Maher" (HBO, 10 p.m.).
Michael Cera stops in at "Comedy Bang! Bang!" (IFC, 10 p.m.).
On the season one finale of "Insane or Inspired?" (Syfy, 10 p.m.), oversized objects get the spotlight.
Travis and Wes swap lives on a new "Common Law" (USA, 10 p.m.).
In the morning, there's Wimbeldon (ESPN2, 7 p.m.).
Daytime Talk
Kelly Ripa: Matthew MConaughey, Sonya Fitzpatrick, Ashanti, Michael Strahan. The View: Robby Benson, Randy Fenoli. The Talk: Tyler Perry, Harvey Weinstein, Anne Burrell, Paul Magers. Ellen DeGeneres: Melissa McCarthy, Armie Hammer (rerun).
Late Talk
David Letterman: Bill Murray, the Temper Trap (rerun). Jay Leno: Andrew Garfield, Of Monsters and Men. Jimmy Kimmel: Anderson Cooper, Scott Cann, Anderson Cooper, Metric (rerun). Jimmy Fallon: Blake Lively, Seth MacFarlane, Charlie Watts. Craig Ferguson: Tyler Perry, Matt Kirshen. Tavis Smiley: Jonathan Demme. Carson Daly: J.B. Smoove, Annie Mumolo, Bombay Bicycle Club (rerun). Chelsea Handler: Zach Wahls, April Richardson, Heather McDonald, Loni Love (rerun).