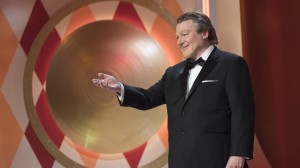 Summer's here and it's time for the silliest of TV fare.
Why not embrace it fully? As ABC does for the unexpected reboot of "The Gong Show" (ABC, 10 p.m.), which pretty much follows the format of the original show from Chuck Barris, the zany host who died earlier this year. The host this time could be even zanier, though. Introduced as Tommmy Maitland, a washed up British host with a million zingers, there's something about him that seems familiar, especially as his catch phrase is "Who's a cheeky monkey?"
The array of talent is not so different than the self-important stars of "America's Got Talent"; just dumber concepts. The first panel of judges — Zack Galifianakis, Will Arnett and Ken Jeong — are each fans of absurdist comedy that they like every weird thing before them. It isn't until a handful of acts that they consider even picking up a gong. Even so, their rating system is unpredictable; what some score as 10, others rate as zero. Not that any of it matters, which is why this may be fun: at least they realize it too.
Less welcome is the much more conventional talent hunt of "Boy Band" (ABC, 8 p.m.), which suggests that there's even a need for a new N'Sync. Backstreet Boy Nick Carter is one judge, as is producer Timbaland and Emma Bunton, Baby Spice of the Spice Girls (with Mel B on "America's Got Talent," maybe we've found a steady career path for the whole girl group; Sporty Spice can get on "American Ninja"; Posh on "America's Next Top Model"). Rita Ora hosts; they begin with 30 guys that they'll whittle down. The winner will likely never be heard from again.
In the new summer series "The Mist" (Spike, 10 p.m.), bad things happen when a fog rolls in on a small Maine town. Based on a Stephen King story, it stars Morgan Spector, Alyssa Sutherland and Gus Birney in what sounds like a variant of the "Under the Dome" syndrome.
There hasn't been much of the promised activity on the U.S.-Mexico border, but as for the game show, "The Wall" (NBC, 9 p.m.) starts its second season.
Also back is "Hollywood Game Night" (NBC, 8 p.m.), with Tony Hale, Anna Chlumsky, Matt Walsh, Christian Serratos, Josh McDermitt and Lauren Cohan all playing. Jane Lynch is still hosting.
With things like "Beat Shazam" (Fox, 8 p.m.) and "Love Connection" (Fox, 9 p.m.) clogging prime time, there is some scripted activity on broadcast TV, but it's the fourth season of the steamy hospital drama "The Night Shift" (NBC, 10 p.m.).
There is border activity on "Queen of the South" (USA, 10 p.m.).
Scarlett Johansson goes "Inside the Actors Studio" (Bravo, 8 p.m.).
"How It's Made: American Made" (Science, 9 p.m.) returns with a patriotic focus, looking first at baseball factories.
Maddie's caught in a viral video on "Nashville" (CMT, 9 p.m.).
If he loses his current position, Jared Kushner would be a perfect addition to "Million Dollar Listing New York" (Bravo, 9 p.m.).
Jason loses everything on "Mountain Men" (History, 9 p.m.).
The black box reveals a new angle on "The Tunnel: Sabotage" (PBS, 9 p.m., check local listings).
Vancouver Island is no vacation for participants on "Alone" (History, 10 p.m.).
"Mysteries of the Outdoors" (Travel, 10:30 p.m.) goes to Death Valley.
The Thursday night survey of gay Hollywood on Turner Classic Movies continues with "Gypsy" (8 p.m.), "Billy Liar" (10:45 p.m.), "Suddenly, Last Summer" (12:45 a.m.), "Psycho" (3 a.m.) and "West Side Story" (5 a.m.).
Baseball includes St. Louis at Philadelphia (MLB, 1 p.m.), Cubs at Miami (MLB, 7 p.m.) and Mets at Dodgers (MLB, 10 p.m.).
In the FIFA Confederations Cup it's Cameroon vs. Australia (Fox Sports 1, 11 a.m.) and Germany vs. Chile (Fox Sports 1, 2 p.m.).
It's been all of 10 days since the NBA Finals ended, so here's the NBA Draft (ESPN, 7 p.m.).
And this may be the longest horse race around, as the UK's Royal Ascot (NBC Sports, 8:30 p.m.) enters day three.
Daytime Talk
Kelly and Ryan: Kurt Russell, Guillermo Diaz, Gina Rodriguez. The View: Tom Perez, Ice Cube. The Talk: Dominic Cooper, Laura Benanti. Harry Connick: Ray Liotta, Josh Henderson (rerun). Ellen DeGeneres: Chris Hardwick, Kunal Nayyar, Ashley Benson, Lucy Hale, Sasha Pieterse, Shay Mitchell, Troian Bellisario (rerun). Wendy Williams: Brian Balthazar, Dave Mizejewski. The Real: Eddie Ciboria, Joseline Hernandez (rerun).
Late Talk
Stephen Colbert: Kevin Spacey, Terry Crews, Rob Huebel (rerun). Jimmy Kimmel: Anthony Hopkins, Chris Hardwick, Queen with Adam Lambert. Jimmy Fallon: Ray Romano, Ruth Nega, Camilla Cabello. Seth Meyers: Ice Cube, Kumail Nanjiani, Mayor Pete Buttigieg, Daru Jones. James Corden: Dominic Cooper, Laura Haddock. Carson Daly: Thomas Middleditch, Night Beats, Katie Dippoid (rerun). Trevor Noah: Jerrod Carmichael. Conan O'Brien: Will Ferrell, Ha Ha Tonka.