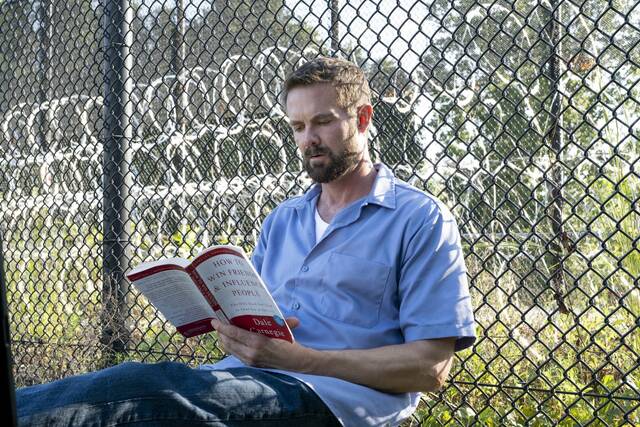 Greg Garcia's brand of sly comedy, that ran from "My Name is Earl" to "Raising Hope" to "The Guest Book" continues his nuttiness with his new one, "Sprung" (Amazon FreeVee, streaming) that features some of his recurring (and welcome) stars Garrett Dillahunt and Martha Plimpton (who is putting on a particularly Cloris Leachman effect here) about a guy released from jail trying to adjust to COVID-era life outside but is drawn to her own criminal ambitions – for good. (FreeVee, by the way, is Amazon's new free streaming service, formerly known as iMDB, that's available online for free). 
"The New York Times Presents" (FX, 10 p.m.) profiles the biggest spreader of COVID in a lab coat in the documentary "Superspreader." Josh Franer directs. 
Sharon Horgan of "Catastrophe" fame returns to star in a series she created and cowrote. "Bad Sisters" (Apple TV+, streaming) is based on a Flemish series called "Clan" that takes place on coastal Ireland among . Anne-Marie Duff, Sarah Green and and Eve Hewson co-star
Another sister- themed mini-series, "Echoes" (Netflix, streaming) involves identical twin sisters and what happens when one of them goes missing.
"Surfside Girls" (Apple TV+, streaming) is a new series based on the young-adult graphic novel about friends who fightt the supernatural in a coastal California town. YaYa Gosselin and Miya Cech star.
Sex coach Caitlin V disperses advice in the new series "Good Sex" (Discovery+, streaming).
"The Rehearsal" (HBO, 11 p.m.) reaches its first season finale with Nathan Fielder reaching for some realizations.
From Spain comes a new supernatural thriller "The Girl in the Mirror" (Netflix, streaming). Mireia Oriol stars in the series as a woman who survives a bus accident that killed nearly all of her classmates and begins having visions.
"Orphan: First Kill" (Paramount +, streaming) is a prequel to the horror film "Orphan," with aIsabelle Fuhrman reprising her role and Julia Stiles co-starring.
Tim Gunn and Heidi Klum return for the third season of their fashion design competition "Making the Cut" (Amazon Prime, streaming).