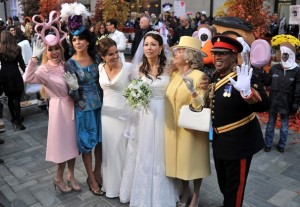 How obsessed is the "Today" show with the Royal Wedding, to which they devoted so much time this year? Enough to keep it in mind as their main set of Holloween togs.
That meant a much too old Matt Lauer as Prince William; an even more unfitting Al Roker as his brother, Prince Harry. Worst of all was actual newsperson Savannah Guthrie who had to dres as Prince Charles (there was no Camilla).
Anne Curry is the new co-host so she had to be Kate Middleton. But like the real one, she was upstaged by Natalie Morales, perfect as Pippa.
She was also upstaged by her predecessor – Meredith Vieira as the Queen mother, whose wig immediately fell off.
Even more perfect? Wicked 10 o'clock stepsisters Kathie Lee Gifford and Hoda Kotb as the weird stepsisters Beatrice and Eugenie.
Big dressup fun, but more of an opportunity to make you think of how much excess they poured on the original event.
On another daytime show that plays up the holiday,  Regis Philbin was a no-show on what would have been his last Halloween edition of "Live with Regis and Kelly."
So Nick Lachey filled in, playing the overtall Kris Humphries to Kelly Ripa's wedding dress Kim Kardashian on the morning she'd file for divorce (after 72 days of marital life). Ripa also got to be Kate Middleton, as well as Sammie on "Jersey Shore," a "Toddlers and Tiaras" contestant, Justin Bieber, Katy Perry and Lacey Schwimmer (of "Dancing with the Stars").
There was a Regis costume ultimately, bit it was worn by a heavily masked Heidi Klum. It was her most elaborate costume since her last one – Saturday, as a skinned corpse.
"The View" kept a zombie theme as they skewered personalities from reality TV – "Hoarders" but also Flavor Flav, a Bachelorette, "Idol" host Steven Tyler and Dog the Bounty Hunter.
Ellen DeGeneres kept her costume in-house: She portrayed Sophia Grace, a five year old singer and Nicki Minaj fan.