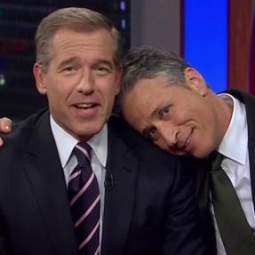 "Rock Center with Brian Williams" (NBC, 10 p.m.), the newsmagazine that sounds like a Don Kirshner concert knockoff, had its start on Halloween night last week from Rockefeller Center, which gave it its name.
Its reports were of little note. Harry Smith went to a boomtown in the Dakotas without mentioning the downsides of frakking; there was a report intent on alarming you about Chinese women who come to the U.S. to have babies, and an exciting report from Richard Engel sneaking into Syria to give a report on the situation, though it dwelled mostly on his illicit entry there. And while Williams is known to have a sense of humor, he felt a need to bring in Jon Stewart to the studio to guarantee some mirth. They didn't have anything planned and ended up bantering about men's hose. Maybe things will be better this week. Engel will report on Greece, but presumably won't have to sneak in; Nancy Snyderman reports on a woman who had forced sterilization; and for the comedy portion, Tina Fey will be interviewed.
I see more news and humor coming out of Herman Cain's visit to "Jimmy Kimmel Live" (ABC, 12:05 a.m.).
Jonathan and George try to get relationship counseling on a new "Bored to Death" (HBO, 9 p.m.). The professional they see is played by Sarah Silverman.
Hoarding exists not only on "Hoarders" (A&E, 9 p.m.) at the home of a friend, but also on a new "2 Broke Girls" (CBS, 8:30 p.m.).
Amy announces plans for a women's activist group at a baby shower on a new "Enlightened" (HBO, 9:30 p.m.).
Blair's getting married on "Gossip Girl" (The CW, 8 p.m.) and she insists on auditioning bridesmaids.
On "How I Met Your Mother" (CBS, 8 p.m.), they reminisce on the problems caused by Hurricane Irene.
Remaining groups sing classic rock and country on "The Sing-Off" (NBC, 8 p.m.) but the opening collaborative number is from Arcade Fire, "Wake Up."
If the dinosaur problems weren't enough, a meteor crashes on "Terra Nova" (Fox, 9 p.m.).
The eighth week of performances on "Dancing with the Stars" (ABC, 8 p.m.) comes with a question: When can we finally be rid of Nancy Grace?
The action moves to Atlantic City on "Castle" (ABC, 10 p.m.). Who do they think they are, "Boardwalk Empire" (HBO, 10 p.m.)?
The battle of the blondes continues on Turner Classic Movies, first with Veronica Lake in "This Gun for Hire" (8 p.m.) and "The Blue Dahlia" (9:30 p.m.); Lana Turner in "The Postman Always Rings Twice" (11:15 p.m.), "The Bad and the Beautiful" (1:15 a.m.), "These Glamour Girls" (3:30 a.m.) and "Love Has Many Faces" (5 a.m.).
It's Chicago at Philadelphia on "Monday Night Football" (ESPN, 8:30 p.m.).
In lieu of the NBA, it's the World Series of Poker (ESPN2, 8:30 p.m.).
In hockey, it's Islanders at Bruins (Vs., 7 p.m.).
Daytime Talk
Regis and Kelly: Joan Rivers, Michael Buble. The View: Christina Applegate, Robin Roberts. The Talk: Billy Gardell, Jack Osbourne. Ellen DeGeneres: Kate Walsh, Freida Pinto. Wendy Williams: Kris Jenner, Lamman Rucker. Rosie O'Donnell: Salma Hayek, Antonio Banderas.
Late Talk
David Letterman: Melissa McCarthy, Anthony Bourdain, Joan Baez and Kris Kristofferson. Jay Leno: Ellen Barkin, Henry Cavill, Cirque du Soleil: Iris. Jimmy Kimmel: Taylor Lautner, Herman Cain, Junip. Jimmy Fallon: Anderson Cooper, Arnie Hammer, St. Vincent. Craig Ferguson: Jeffrey Dean Morgan, Jeff Cesario. Tavis Smiley: Lawrence Lessig, Florence Henderson. Carson Daly: Kaitlin Olson, Megan Amram, Lykke Li, MINDR (rerun). Jon Stewart: Clint Eastwood. Stephen Colbert: Niall Ferguson. Conan O'Brien:Adam Sandler, Christina Tosi, Joe Jonas . Chelsea Handler: Dave Attell, Michael Yo, Jen Kirkman, Gary Valentine.