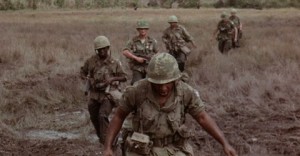 Those who fought the war probably have vivid images in their mind 24 hours a day. Still there's something about "Vietnam in HD" (History, 9 p.m.) that promises an enhanced viewing of the footage, just as "World War II in HD" had.
It's also built on a number of 13 individual stories of soldiers during the war, including that of Arthur Wiknik of Connecticut.
Their passages from letters and journalis are read by stars that include Dean Cain, ylan McDermott, Jennifer Love Hewitt, Zachary Levi, Tempestt Bledsoe, Blair Underwood, Kevin Connnolly, Edward Burns and Andrew Grenier.
In introducing the series, Nancy Dubuc, president of History Channel, says "America's military involvement in the Vietnam War was one of the most significant events in the history of this country. "
Like the Emmy-winning series "World War II in HD," the network "again embarked on a worldwide search for rare and never before seen footage."
As a result, she says, " 'Vietnam in HD' will bring gripping personal accounts and thousands of hours of uncensored footage, which will immerse viewers into the terror of battle as well as the emotions, the very complicated emotions of returning home. We'll detail every critical moment of the Vietnam War."
Liz Reph of Lou Reda Productions, the producer and lead writer of the special, said some of the problem with making the film is how much footage they actually have. "If you have to choose between having too much and having too little, we were definitely fortunate in having too much.
"But I think that overall, you know, we tried to hit some of the big battles, some of the key moments that people will expect to see, but also within those big moments, finding the footage that was maybe shot by a soldier on the ground or was shot by what isn't the news footage that you would expect to see of Hamburger Hill," she says.
"So we might be covering an event that is rather well known, but we're trying to do it from a different perspective or show a different angle of it," Reph says.
"We spent about two years going through different archives," says Susan Werbe, an executive producer for History. "We have a really great working relationship with all of the branches of the military. So we got footage from the Marines, the Army, the Air Force, and the Navy, and, of course, we worked with the National Archives extensively. And in addition to that, we were able to get in a lot of personal collections."
Werbe says at least 100 soldiers brought their own cameras to the conflict. "They were able to shoot eight millimeter footage that they very kindly sent to us, and we were able to transfer it to HD, use it in the program and also give them back HD transfers so that could preserve it for themselves."
Part of the search came at the National Archives, Werbe says. "They went and found corrugated cardboard boxes that had been untouched since the Vietnam War."
"Vietnam in HD," which Werbe says is the first comprehensive documentary on the war in nearly 30 years, begins its run tonight at 9 on History. It continues Wednesday and concludes Thursday, also at 9.