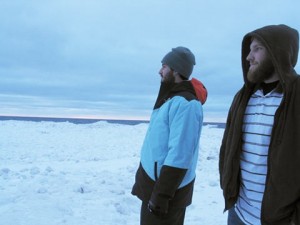 Filmmaker Heather Courtney returned to her hometown of Hancock, Mich., in the state's snowy Upper Peninsula to follow a group of childhood friends who go from sleds and graffiti art to the brutal combat of Afghanistan because they had signed up for the National Guard out of high school.
The four year ordeal, in which the teens become soldiers searching for roadside bombs, to their return back home becomes the film "Where Soldiers Come From" making its debut on "POV" (PBS, 9 p.m., check local listings), intent on kicking off Veteran's Day observations with a look at some of those who have been fighting the war. The film comes immediately after an address by President Obama's executive action to help unemployed veterans.
And it follows some soldier reminisces on "Vietnam War Stories" (PBS, 8 p.m., check local listings) – which is probably a good companion to the two hour finale of "Vietnam in HD" (History, 9 p.m.).
"Braxton Family Values" (WE, 9 p.m.) begins a new season, with Toni in a new house in Los Angeles and the rest of her jealous sisters still coping in their ways. What's new is that they're all acting differently now that they've all been on TV playing up to their character traits for a whole season.
Both "The Vampire Diaries" (The CW, 8 p.m.) and "The Secret Circle" (The CW, 9 p.m.) reach their mid-season finales, so expect some bigger than usual developments in each.
Pam is suspicious of the temp that will fill in during her maternity leave on "The Office" (NBC, 9 p.m.).
Willow Smith and Jessie J perform before the latest elimination on "The X Factor" (Fox, 9 p.m.).
Leslie organizes a model UN at Pawnee Central High on "Parks and Recreation" (NBC, 8:30 p.m.).
Henry has emergency surgery on "Grey's Anatomy" (ABC, 9 p.m.).
Vermont leaf peeping is the plan on "Rules of Engagement" (CBS, 8:30 p.m.).
Smarter than the "Jersey Shore" used to be, in the same time slot: "Beavis and Butt-head" (MTV, 10 p.m.).
Annie decides to move in with Troy and Abed on "Community" (NBC, 8 p.m.).
The action on Turner Classic Movies tonight largely takes place on luxury liners, with "Love Affair" (8 p.m.), "One Way Passage" (9:30 p.m.), "Now, Voyager" (10:45 p.m.), "That Girl from Paris" (1 a.m.), and "Dodsworth" (3 a.m.).
In college football, it's Virginia Tech at Georgia Tech (ESPN, 8 p.m.).
Daytime Talk
Regis and Kelly: Robert Pattinson. The View: Chris Matthews, Nancy Grace. The Talk: Ellen Barkin, Kelly Monaco, Glynis McCants. Ellen DeGeneres: Melissa McCarthy, Armie Hammer, Luke Bryan. Wendy Williams: Lisa Vanderpump, Randy Fenoli. Rosie O'Donnell: Florence Henderson, Kool & the Gang
Late Talk
David Letterman: Katie Holmes, Noel Gallagher's High Flying Birds. Jay Leno: Whitney Cummings, Chris Matthews, Il Divo. Jimmy Kimmel: Kristen Stewart, Jon Bernthal, Feist. Jimmy Fallon: Robert Pattinson, Mike White, Reggie Fils-Aime, Hunter Hayes. Craig Ferguson: Molly Shannon, Michael K. Williams, Larry King. Tavis Smiley: Mickey Rourke. Carson Daly: Lupe Fiasco, Alma Har'el, Atmosphere. Jon Stewart: Adam Sandler. Stephen Colbert: Brian Eno. Conan O'Brien: Kirsten Dunst, Chris Hardwick, Mariachi El Bronx. Chelsea Handler: Ellen Barkin, Brad Wollack.