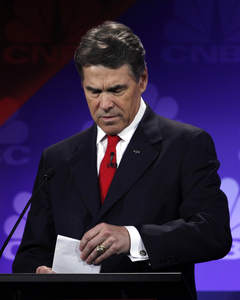 Let's see if anybody forgets anything in the South Carolina Republican Debate (CBS, 8 p.m.), the first on a broadcast network, but the second in four days. But don't worry, after this one there's only 13 more scheduled.
In the third season premiere of "Pit Bulls and Parolees" (Animal Planet, 10 p.m.), Tia Torres faces a scary obstacle: Not the dogs or the ex-cons she deals with, but the local city council in the city where she wants to expand her operation.
There's a general sports takeover on the broadcast networks with Notre Dame at Maryland (NBC, 7:30 p.m.) and Oregon at Stanford (ABC, 8 p.m.).
Something new for primetime, though, is the UFC Fight Night on Fox (Fox, 9 p.m.). The biggest fight is on pay-per-view, with Manny Pacquiao vs. Juan Manuel Marquez (HBO PPV, 9 p.m.) from Las Vegas.
The most attention for a football game will be No. 19 vs. No. 12. But Nebraska at Penn State (ESPN, noon) will be notorious for wholly different reasons – the first without Joe Paterno as Penn State coach and a campus coping with an ugly sex scandal and coverup.
Other college football today includes Oklahoma State at Texas Tech (ABC, noon), Wake Forest at Clemson (ESPNU, noon), Florida at South Carolina (CBS, noon), Texas at Missouri (FX, noon), Michigan State at Iowa (ESPN2, noon), West Virginia at Cincinnati (ABC, noon), TCU at Boise State (Versus, 3:30 p.m.), Miami at Florida State (ESPN, 3:30 p.m.), Michigan at Illinois (ABC, 3:30 p.m.), Tennessee at Arkansas (ESPN2, 6 p.m.), Western Kentucky at LSU (ESPNU, 7 p.m.), Alabama at Mississippi State (ESPN, 7:45 p.m.), Idaho at BYU (ESPN2, 9:15 p.m.), Hawaii at Nevada (ESPNU, 10:15 p.m.) and Arizona State at Washington State (Versus, 10:30 p.m.).
Premium cable movie premiers tonight include "Chronicles of Narnia: Voyage of the Dawn Treader" (HBO, 8 p.m.), "Battle: Los Angeles" (Starz, 9 p.m.) and "Life As We Know It" (Cinemax, 10 p.m.).
Randy Newman plays a new "Austin City Limits" (PBS, 9 p.m., check local listings). For something completely different, there's "Britney Spears Live: The Femme Fatale Tour" (Epix,8 p.m.).
Bigfoot cannot be complacent; hence the new movie "Rage of the Yeti" (Syfy, 9 p.m.).
Miss Robbie's old flame comes to visit on "Welcome to Sweetie Pie's" (OWN, 9 p.m.).
A new season starts for the anomaly-fighters on "Primeval" (BBC America, 9 p.m.).
Teri Polo and Esai Morales star in the original movie "We Have Your Husband" (Lifetime, 8 p.m.) about a kidnapping in Mexico that does not involve a Washington Nationals player. Still, it's based on a true story.
Embezzlers get the spotlight on Turner Classic Movies, mostly in comedies, with  "The Bank Dick" (8 p.m.), "Trouble in Paradise" (9:30 p.m.), "The Producers" (11 p.m.), "Angels Over Broadway" (12:45 a.m.), "Hot Millions" (2:15 a.m.) and "Slither" (4:15 a.m.).
Emma Stone returns to host "Saturday Night Live" (NBC, 11:30 p.m.), this time with Coldplay.