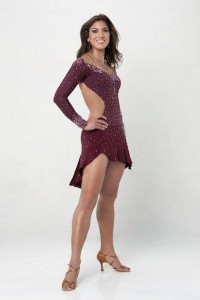 Athletes usually have a leg up on "Dancing with the Stars." They know what it's like to compete on a weekly basis, have a serious work ethic and want nothing more than to win (Other participants may not want much more than a little more attention on the way to the next career revival).
But Hope Solo, the goalie for the U.S. Women's Soccer Team, tried and tried and could never get the nuances of rhythm or flair.
So through eight weeks she stayed consistently in the middle of the pack, never once at the top or the bottom of the judges' leaderboard. That was good enough to carry her in to the semi-finals, but her scores this week from judges – 49 out of a possible 70 was the lowest by far among the final four, with a lowly 21 out of 30 for a paso Doble, a 24 for a paso doble, and a last place finish in a "cha-cha relay" that earned her just 4 of a possible 10 votes.
Viewers did not vote to save her and she was the 9th to go in the current 13th season.
"This competition is one of the toughest competitions I've ever been involved in," Solo said upon her ouster. "I'm grateful. It's an amazing opportunity."
Solo's partner Maksim Chmerkovskiy, one of the better known professionals on the show, had a particularly controversial year, railing vocally against their scores and declaring famously at one point, "this is my show."
Solo and Chmerkovskiy had been in the bottom two the most of any couple – four times including Tuesday. In the bottom two with them was J.R. Martinez, a former frontrunner who fell to third in judges' scores because of an ankle injury.
He moves to the finales next week alongside current frontrunner Ricki Lake and Rob Kardashian, the only male left in the contest, whose scores have been rising just as the show is concluding.