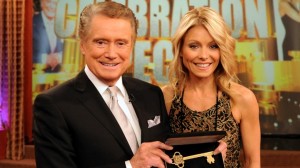 To watch the slightly overblown "Regis Farewell Special" episode of "Live with Regis and Kelly" Friday – an event anticipated since the announcement 10 months ago that he'd be leaving, there was an inevitable feeling of letdown.
The man who'd been on TV 50 years and been morning host for 28 ("And a half!" he bellowed a correction to his producer Gelman in the show) had long since lost control of the farewell monster that had eaten up his show. More than once he yelled "Enough!" about the fuss everyone was making.
This, after all, was always his appeal – the slightly exaggerated exasperation of a regular guy, whose bread and butter was putting exclamation marks into the stories about what he did the night before or read in the paper this morning, and who also was a pretty good host to the stars who kept marching through the studio.
But there was very little of that allowed in his final show Friday because nearly every minute of it had already been so excruciatingly planned.
It didn't have the overkill of the Oprah ending last spring that made you feel like television itself was ending, with the big arena-sized surprises and superstars at every turn.
Regis had a pretty decent crowd on hand, full of familiar and semi-familiar faces – Trump, Katic Couric, Diane Sawyer, John McEnroe, Alan Alda, Tony Danza – all clapping and cheering and never getting introduced, let alone being allowed to pay tribute aloud.
But from the second it was plotted within a second of its life, beginning with the final walk from his dressing room to the studio to start the show – filmed in black and white to somehow make it more monumental. He kept saying "let's do this!" but of course the final show had already started.
He had asked for his papers he had before he began the walk, part of his ritual no doubt. But he didn't have the papers by the time he got to the stage because he was not required to do anything.
Like the subject of any big tribute party, his role was only to stand and be gracious while he's hit with this overflow of love and appreciation. For a guy with a short fuse, it put him out of character.
Even Kelly Ripa, who will inherit the show on Monday – "Live with Kelly" just doesn't have that same ring, though a commercial for the coming product showed it had almost the same tone – wasn't really given much of a chance to be loose and in the moment. Instead she had to be the traffic cop and usher in endless filmed pieces and moments for each of the important people in his life – family, co-host, producer.
If you were looking for big stars to surprise on the last day, you were out of luck. All we had was the mayor, narrating a flat bit about future plans and giving out a key to the city (rather late after nearly 30 years back in town). And there was also the President … of ABC, who few at home recognized, and unveiled a plaque in the building with Philbin's face on it.
It seemed like the final show wasn't the place to show how people impersonated Philbin over the years (couldn't that have shown earlier in the week?) (Mostly everyone impersonated Dana Carvey's original impersonation of him). And the family stuff had largely been seen before (though it might be of some interest to TV viewers that the son-in-law Michael Schur is actually the guy behind "Parks & Recreation," it didn't coe up).
There was, however, "The Honeymoon Story," which Philbin had apparently said more than once he'd only tell on his last day on the show. Turns out, of course, it wasn't much of a story at all (he hadn't made a reservation) and, worse, he wasn't even allowed to tell it after all this time (it was left to his wife, Joy).
Ripa started to get tearful in her own farewell to him, but she had to get it to gether so she could read the thing she had written which mentioned what she thought during their final walk to the stage (which means she had to have written it during commercials and printed it out).
Gelman was Gelman and said his farewell via a rewrite of "Seasons of Love" performed by the local company doing "Rent" somewhere. And then there was only a few minutes for Philbin to actually say goodbye, which he did efficiently and sincerely without a comic outburst, tear, or much impact.
By the end of his run, Philbin had long since been allowed control over his own show, or the ability to be precisely the person people loved so much.