Though he's turned out scores of films in a career as one of America's finest filmmakers, Woody Allen has certainly been a reluctant subject for any biography.
When he finally sits down with Robert Weide for the two part, 3½ hour epic that begins tonight on "American Masters" (PBS, 9 p.m., check local listings).
And even when he does, he's self-deprecating to the point of gross inaccuracy, saying most of his films aren't worth remembering and that what he does isn't special. Since he was a child, the film makes clear, Allen was a genius, churning out 50 jokes a day (good ones) every day for local columnists, getting a staff writing job while still a teen.
Performing standup wasn't easy for him, but he did well, mostly because the material was so good. Soon, he was in demand, got on a lot of TV shows and parlayed his emerging fame into a single movie role, which he hated, since for the first time he had no control over his comedy.
So like Charlie Chaplin, he was the lovable comic who wrote, directed and starred in some enduring comedy classics from "Take the Money and Run" and "Bananas" to "Love and Death" and "Everything You Wanted to Know About Sex."
Still, he was sure to reflect his existential crisis at every turn, asking about whether life is worth living.
The dichotomy would follow him the rest of his career, following the romantic, artistic triumph of "Annie Hall," which he didn't like, with the dour drama of "Interiors" immediately after.
The first two hours of the bio only go as far as "Stardust Memories," leaving way too many movies to cover in the truncated second half, which itself has to make way for his relationship with Mia Farrow – just about the only costar who refused to be interviewed for the films.
Weide, who had previously made biographies of Mort Sahl, W.C. Fields and the Marx Brothers — as well as helping produce the first five seasons of "Curb Your Enthusiasm" — says Allen certainly deserves the recognition for the unique role he's created in the film industry.
"It's funny. You don't hear the phrase 'independent filmmaker' attached to Woody that often," Weide told reporters at the TV Critics Association summer press tour, "but in some ways he's the quintessential independent filmmaker, to the point where he's got the situation that, as far as I know, nobody has, where the people who finance his films don't even read a script, not even an outline. He'll say, 'Well, it's a film about a woman who has some problems and, you know, her relationship falls apart in London.' And they'll say, 'Great,' and they'll sign him up.
"Of course, the big shock is that Woody is now 75 years old. He's been doing a film a year for 40-plus years now, 42 years," Weide says. "And 'Midnight in Paris' is now his biggest moneymaker.
"So that's another thing that's interesting about him, is every time people sort of assume that maybe he's down and out or he's played out, along comes 'Match Point' or 'Vicky Cristina Barcelona' or now 'Midnight in Paris.' There's no stopping him."
Along with the reflections of Allen, from a variety of interviews, and those of his producers and costars, there is a chance to drive with the New York curmudgeon to his old neighborhood in Brooklyn, and an opportunity to see how Allen works on the set of "You Will Meet a Tall Dark Stranger" – mostly he lets actors do what they want or even change dialog if they are so moved.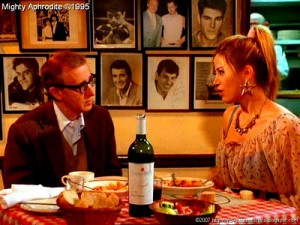 When he gave the script of "Mighty Aphrodite" to Mira Sorvino, the actress recalls, "He said, "Listen, whatever I've written here is just a blueprint. You don't have to say any of the lines I've written if you don't want to. It's just whatever makes you the most real and natural and funny as possible.'
"And I was stunned," Sorvino says, "because I had grown up reading his books, like 'Without Feathers' and 'Getting Even.' I had been in a play in high school, 'Play it Again, Sam,' as the Diane Keaton role in that. He's one of our foremost comedic writers ever, and the fact that he had so little ego and ownership of his text was extraordinary, because I'd just come from working with Whit Stillman in 'Barcelona,' who would stop you after a paragraph and say,'You missed the period.'
"So it was an enormous responsibility, but ultimately I felt really wonderful. It made me work so much harder because
I knew I had to have it all going on at all times," she said.
"I think what's really great for an actor, I think, when somebody believes in you and they hire you because they believe in who you are," says Mariel Hemingway, who got an Oscar nomination for her role in "Manhattan."It's like he really has a vision about something. He sees something in that actor or actress, and he allows them he allows that to come forth from them, and it's a powerful place for an actor to be, where you just feel, like, "Oh, wow, I must be pretty cool. I'm here. I've showed up, and he believes in me, and he's not telling me anything different." I think you show because he expects you to show up. So you show up."
The two are among the dozens of actors, producers and film historians quoted in "Woody Allen: A Documentary" along with Allen himself. Just about the only thing missing from the work is the opportunity to see, immediately after, all of the great films covered in the portrait in full – or even the ones that never even get mentioned.
Netflix queues will be filled accordingly.