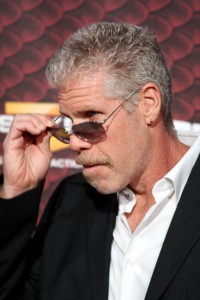 Get to see two sides of Ron Perlman, right, tonight. You can catch him as the increasingly embattled patriarch in "Sons of Anarchy" (AMC, 10 p.m.) as that drama reaches its season's climax. But you can see him all night elsewhere, on Turner Movie Classics with Robert Osborne, as a movie connoisseur, announcing his film picks for tonight: "Sweet Smell of Success" (TCM, 8 p.m.), "Red River" (TCM, 9:45 p.m.), "Gunga Din" (TCM, 12:15 a.m.) and "Mr. Smith Goes to Washington" (TCM, 2:30 a.m.). What, no "Wild One" or even "Hellboy"?
A winner is chosen on what has been the most lackluster season of "Dancing with the Stars" (ABC, 9 p.m.). And if Rob Kardashian, surging  in judges scores Monday, turns out to be the winner, we can write the whole season off. I'm thinking though that Ricki Lake and J.R. Martinez have better chances, with the latter the likely victor.
A winner won't come quickly among GOP Presidential hopefuls. Another Republican Debate (CNN, 8 p.m.) tonight — the 15 of the season? Anybody keeping count? — will cover foreign policy. Wolf Blitzer moderages the event in Washington and two conservative think tanks get to supply questions. Herman Cain has been studying Libya all day.
On the 48th anniversary of the assassination of her husband, the two hour "Jacqueline Kennedy: In Her Own Words" (OWN, 9 p.m.) featuring excerpts from the audio interview she gave to Arthur Schlesinger about life in the White House.
It's preceded by the "Oprah" (OWN, 8 p.m.) that celebrates what would have been the 50th birthday of JFK Jr., who died in a 1999 plane crash.
The two hour "Kennedy Assassination: Beyond Consipiracy" (History, 8 p.m.) is also rerun.
"Giving thanks" is the theme of songs tonight on "The X Factor" (Fox, 8 p.m.), moved up a day this week  because of Thanksgiving. Nine contestants remain, but tomorrow, two will be eliminated.
"The Real Story of Thanksgiving" (History, 10p.m.) looks into the day's origins while "Chopped" (Food, 9 p.m.) looks at a cooking a Thanksgiving meal. It's Thanksgiving, too, at "90210" (The CW, 8 p.m.) and a Thanksgiving meal is the temptation on "Biggest Loser" (NBC, 8 p.m.). Thanksgiving is also the theme on a season finale of "Workaholics" (Comedy Central, 10:30 p.m.).
Both "Frontline" (PBS, 9 p.m., check local listings) and "Secrets of the Dead" (PBS, 10 p.m., check local listings) concern themselves with another November anniversary – the terrorist assault o Mumbai, India in 2008 that killed 166.
There's not many Thanksgiving films on but a ton about another holiday: "The Santa Clause" (Hallmark, 8 p.m), "Thomas Kinkade's Christmas Cottage" (Lifetime, 8 p.m.), "First Christmas" (Hallmark, 10 p.m.) and "The Christmas Blessing" (Lifetime, 10 p.m.).
A new "Real Sports with Bryant Gumbel" (HBO, 10 p.m.) looks at the Flying Wallendas.
For the profile "Jeff Dunham: Birth of a Dummy" (Bio, 8 p.m.), I hope they got interviews with Walter, Peanut and Bubba J.
Robert Wagner may not be a suspect in the death of his wife Natalie Wood, whose case was reopened last week, but his character is tonight on an untimely new "NCIS" (CBS, 8 p.m.).
Patti Stanger has always seemed an unreliable "Millionaire Matchmaker" (Bravo, 9 p.m.) since her own relationship fizzled. Tonight, the effort goes to finding her a mate.
Don't mix up your "Billy Jack" (Flix, 8 p.m.) with your "Billy Bathgate" (Flix, 10 p.m.).
I guess before you see the sequel, you owe it to yourself to see the original "Happy Feet" (ABC Family, 8:30 p.m.), just so it all makes sense.
In NHL action, it's Kings at Blues (Versus, 7:30 p.m.).
Daytime Talk
Kelly Ripa: Kim Cattrall, Tony Stewart, Jamie Oliver, Jerry Seinfeld. The View: Hugh Jackman, Tim Gunn. The Talk: L.L. Cool J, Gillian Jacobs. Ellen DeGeneres: Tim Allen, Mark Kelly, Daughtry. Wendy Williams: Chaz Bono, Cynthia Bailey. Rosie O'Donnell: Bob Newhart, Tracy Morgan (rerun)
Late Talk
David Letterman: Amy Sedaris, Sondre Lerche. Jay Leno: Julia Scardina, Dane Cook, Hot Chelle Rae. Jimmy Kimmel: Dana Delany, David Beckham, Nickelback. Jimmy Fallon: Howie Mandel, Chloe Moretz, B.O.B. Craig Ferguson: Jason Segel, Eli za Coupe. Tavis Smiley: David Cronenberg, Darren Handy. Carson Daly: Butch Vig, Klitschko Brothers, Portugal the Man. Jon Stewart: Rep. Nancy Pelosi (rerun). Stephen Colbert: Chris Matthews (rerun). Conan O'Brien: Hugh Jackman, Cobra Starship featuring Sabi. Chelsea Handler: Drake, Ross Mathews, Jen Kirkman, John Caparulo.