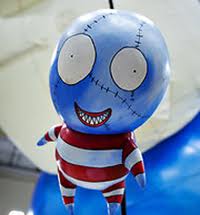 The 85th Annual Macy's Thanksgiving Day Parade (NBC, 9 a.m.) is leaving a bigger imprint than ever on TV this season. Not only does the main event continue until noon, when it Is followed by "The National Dog Show" (NBC, noon), but its highlights (and that of the past 84 parades) are featured in the hour long prime time special, "The 85th Anniversary Special: Macy's Thanksgiving Parade" (NBC, 10 p.m.).
If nothing else, it will allow those who spent the morning busily cooking to sit and enjoy the pageantry and balloons, which this morning will include a special balloon created by the filmmaker Tim Burton, who has come up with one of his dark characters, a discarded balloon with pointy teeth and zig-zaggy stitches, to float alongside the usual Garfield and the Smurfs.
Football is big today and even the  annual Detroit NFL game has some measure of meaning, with Packers at Lions (Fox, 12:30 p.m.). It's followed by Dolphins at Cowboys (CBS, 4:15 p.m.) and The 49ers at Ravens (NFL, 8 p.m.).
In college football, it's Texas at Texas A&M (ESPN, 8 p.m.).
What's the cure for "A Very Gaga Thanksgiving" (ABC, 9 p.m.)? The Heimlich maneuver. But in the holiday special from the meat-wearing star (who we hope is wearing cold turkey leftovers for the occasion), she performs her own hits, does a duet with Tony Bennett and talks briefly with interviewer Katie Couric, who will likely start to second guess her departure from CBS news for this.
Clear the Thanksgiving dishes fast, because here come the Christmas specials. The fanciest may be "Ice Age: A Mammoth Christmas" (Fox, 8 p.m.), using all the characters and celebrity voices from the hit film series. A dysfunctional Christmas from "The Simpsons" (Fox, 9:30 p.m.) rounds out the night of holiday animation on Fox.
Elsewhere, Jim Carrey, Steve Carell and Carol Burnett are among those who lend their voices to the elaborate feature "Dr. Seuss' Horton Hears a Who!" (NBC, 8 p.m.). And "Monsters, Inc" (ABC Family, 7 p.m.) and "Wall-E" (ABC Family, 9 p.m.) are on a double bill. Another animated feature on cable: "Kung Fu Panda" FX, 8 and 10 p.m.).
Sting joins Vince Gill for an unexpected night of music on "CMT Crossroads" (CMT, 8 p.m.) that concentrates on each man's musical ability with stringed instrument. But they also join forces for such songs as "Fields of Gold," "Every Breath You Take" and Gill's "Liza Jane."
Saving up your jack o'lanterns from Halloween has paid off, in the biggest ever "Punkin Chunkin 2011" (Discovery, 8 p.m.), from a field in Delaware.
Thanksgiving is the theme on one of the few new scripted shows on network TV tonight, "The Middle" (ABC, 9 p.m.).
Daytime Talk
Kelly Ripa: Kristin Davis, Trudie Styler, Russell Brand (rerun). The View: Erin Chase (rerun). The Talk: Kate Walsh, Nestor Carbonell, Debi Mazar. Ellen DeGeneres: Robert Pattinson, Kristen Stewart, Taylor Lautner, Kellan Lutz, Ashley Greene, Nikki Reed, Jackson Rathbone, Peter Facinelli, Elizabeth Reaser, Bruno Mars (rerun). Wendy Williams: Roseanne Barr, Levi Johnston (rerun).
Late Talk
All reruns: David Letterman: Jason Sudeikis, Bettina Luescher, St. Vincent (rerun). Jay Leno: Taylor Lautner, Martha Stewart, Daughtry. Jimmy Kimmel: Kristen Stewart, Jon Bernthal, Feist. Jimmy Fallon: Justin Timberlake, Michael Pena, Kelly Clarkson. Craig Ferguson: Tim Meadows, Lauren Graham. Tavis Smiley: Alfredo Quinones-Hinojosa, Zachary Quinto. Carson Daly: Cory Gooker, Foster the People. Conan O'Brien: Louis C.K. Chelsea Handler: Shailene Woodley, Matt Braunger, Fortune Feimster, Chris Hardwick.