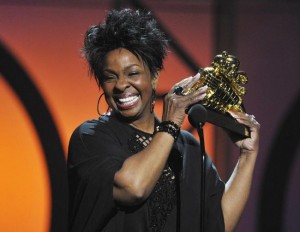 Cedric the Entertainer hosts the 40th anniversary 2011 Soul Train Awards (BET, 9 p.m.), where Gladys Knight, right, and Earth, Wind and Fire will be honored with Legend Awards.
Among the performers slated are Jill Scott, Keith Sweat, Robin Thicke, Melanie Fiona,  Joe, Miguel, Kenny Latimore, Mindless Behavior, Anthony Hamilton, Common, Cee-Lo Green, Lalah Hathaway, the Original 7ven (formerly Morris Day & the Time) and Marsha Ambrosius.  The event, taped Nov. 17 at the Fox Theatre in Atlanta, takes time to pay tribute to the late Heavy D and Nick Ashford as well.
And Wolf Blitzer,  perhaps adapting the nickname Herman Cain created for him, Blitz, performs with Doug E. Fresh.
"Being Chaz" (OWN, 8 p.m.) is an update from the transgender journey of the former "Dancing with the Stars" contestant Chaz Bono depicted in "Becoming Chaz" (OWN, 6 p.m.).
The pace has been a little more measured this season on "The Walking Dead" (AMC,  9 p.m.). But if any zombie mayhem is going to occur, it will be during the climax of the first half of the season – the last new episode until February.
The newspaper columnist turned schlocky TV movie writer presents a new one, "Mitch Albom's Have a Little Faith" (ABC, 9 p.m.) in which Laurence Fishburne plays a preacher who inspires Albom, portrayed by Bradley Whitford.
As the second season begins for "Kourtney and Kim Take New York" (E!, 10 p.m.), Kim's new marriage already shows signs of strain.
"Dexter" (Showtime, 9 p.m.) is getting closer to the Doomsday Killer, thanks to the help of Tom Hanks' kid.
Lucky introduces a possible new product for Jimmy on a new "Boardwalk Empire" (HBO, 9 p.m.).
In lieu of "Mad Men," not due back until March, John Slattery guest stars on "The Simpsons" (Fox, 8 p.m.).
"Homeland" (Showtime, 10 p.m.) is just getting better as its narrative takes on breathless velocity.
Angelina Jolie talks about her bad girl past in a profile on "60 Minutes" (CBS, 7 p.m.).
New holiday movies tonight include "Holiday Engagement" (Hallmark, 8 p.m.) in which a woman hires a dude to pretend to be her fiancé to fake out the fam during the holidays. It stars Bonnie Sommerville, Shelley Long and Haley Duff.
The other is "Desperately Seeking Santa" (ABC Family, 8 and 10 p.m.), in which a marketing executive (Laura Vandervoort) finds more than she was looking for in the guy (Nick Zano) who wins her "sexy Santa" contest.
Ethel Merman is star of the night on Turner Classic Movies, with "There's No Business Like Show Business" (8 p.m.) and "Strike Me Pink" (10:15 p.m.). Much later, Sergei Eisenstein's "Ivan the Terrible Part 1" (TCM, 2 a.m.) is paired with "Part 2" (3:45 a.m.).
It's Pittsburgh at Kansas City in Sunday Night Football (NBC, 8:15 p.m.).
Sunday Talk
ABC: Sen. Pat Toomey, former Secretary of State Colin Powell, Bill Gates, Matt Damon. CBS: Authors Kathryn Sockett, Micharl Lewis Walter Isaacson and Condoleezza Rice. NBC: Sen. Chuck Schumer, Grover Norquist. CNN: Rice, Herman Cain. Fox News: Sens. Jon Kyl and Dick Durbin, Jon Huntsman.